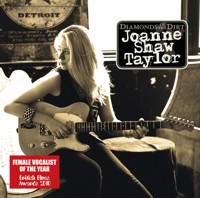 Joanne Shaw Taylor – Diamonds in the Dirt
Miss Taylor is a young and talented artist. Her last release White Sugar was a fine Blues/Rock CD that I just never found time to review. The new release Diamonds In The Dirt continues in that vein of fine Blues/Rock. Things start of a little slow with Can't Keep Living Like This and build to the equivalent of getting hit in the head with a sledge hammer. The first time I heard this song I was in front of a bunch of kids and when the second guitar solo kicked in, I just went wow and they all wondered why I was talking to myself. That solo could have went on forever as far as I was concerned and is certainly way on the Rock side.
Song number two Dead And Gone continues the rockin'. Same As It Never Was slows things down and has a little Pop edge to it. Next up is Jump That Train, which kicks things back into high gear and is the song that I believe the label has been pushing. It's easy to see why. The high energy continues with Who Do You Love? The title track Diamonds In The Dirt is a pretty little tune that gives the listener a chance to experience Miss Taylor's vocals in a little different setting, along with background vocals and some tasty guitar playing.
Let It Burn does just that and I get the feeling that playing with Eric Sardinas on the Black Pearls and White Sugar tour may have had an influence on this song. We find more inspired guitar playing on World On Fire and this tune has a real familiar, kind of old friend feel to it. I could probably figure it out if I didn't have returning to work tomorrow, installing a dishwasher and the Green Bay Packer game coming up in two hours on my mind.
There is some more heavy guitar playing on Lord Have Mercy and The World And It's Way is another slower beautiful song with some poignant lyrics as there is throughout this CD. I have to tell it straight, there is a lot more Rock than Blues here, so some of you Blues purists will turn up your nose at this release. I think there is a little something here for everyone and I would encourage you to click the links on this page and give it a listen. Miss Taylor will be playing at the Great Northern Blues Society's 2011 Blues Café' on March 26th this year and if you miss her performance, well that is a you problem.
Ron Hoerter

Meyer Rossabi first contacted me in the fall of 2009. He had come across a short review that then Great Northern Blues Society President Robert Decker had posted in his Blues News. Blues News is a regional newsletter that Robert sends via E-Mail and it is also posted on our GNBS website. Meyer had sent Robert and I both a copy of his six song CD, Just A Little Taste Of The Blues. Robert's review was positive and if I remember right, we were both impressed with the guitar playing and looked forward to hearing more of Meyer's original songs. We were interested to see where he was going to take his guitar playing. Well the wait is over, Blues Is The Color is a full length CD with three more original songs (eight total) and two covers.
Born in Chicago ( Nick Gravenites) gets things started here. This song and The Sky is Crying ( Elmore James) are the two cover songs on this CD. To me these are both worn out songs but Rossabi breathes as much life into them as anyone has with his fine guitar playing. Born in Chicago ( Nick Gravenites) is also sparked buy some hot harp playing. I have no liner notes at this time so I can't give credit to the player. We find World Gone Crazy in the second spot. This is a Rock tune and is one of the new originals. I have had an advanced MP3 of this song for a while and I always felt that the vocals/lyrics were the storm warning, while the churning guitar was the storm building and approaching rapidly. I really like the intensity of the guitar playing on this one. Oh yeah and lots of cowbell (This just in, credit Marky Ramone as the drummer on The Sky is Crying, World Gone Crazy and Crash).

You will find an upbeat Rock/ Rockabilly tune titled Crash in the third spot. This song is good but I thought it could have been improved by dropping some piano in a few spots, it reminds me of something that Dave Edmunds would do. Next up is Stop Thinking, this is a toe tapping great Blues/Rock track that gives me the piano that I was looking for, it is followed by the afore mentioned The Sky is Cryin (Elmore James). Hurricane is my favorite song on the CD. This song is a little Bob Dylan meets the late 70's Allman Brothers. I just love the slide guitar on this tune; there is also some great piano and a little harp. On the catchy Modern Women we find Rossabi bemoaning how hard it is to maintain a relationship with today's women who are running a little short on time for us men.
Cool, slower with some Jazzy acoustic guitar and a Latin feel is how I would describe Trust Yourself. Gone too Far is a strong Blues/Rocker, while a La Grange style rhythm guitar drives Deadly Ties. The harmonica fills and the ass kicking guitar solo put the icing on the cake for this final track, on a CD that strong from start to finish.
Rossabi is someone to keep and eye and an ear on. I see a bright future for this fine guitar playing Bluesman. Click
here
to listen to samples of Blues Is The Color and
here
for the purchase link.
Ron Hoerter