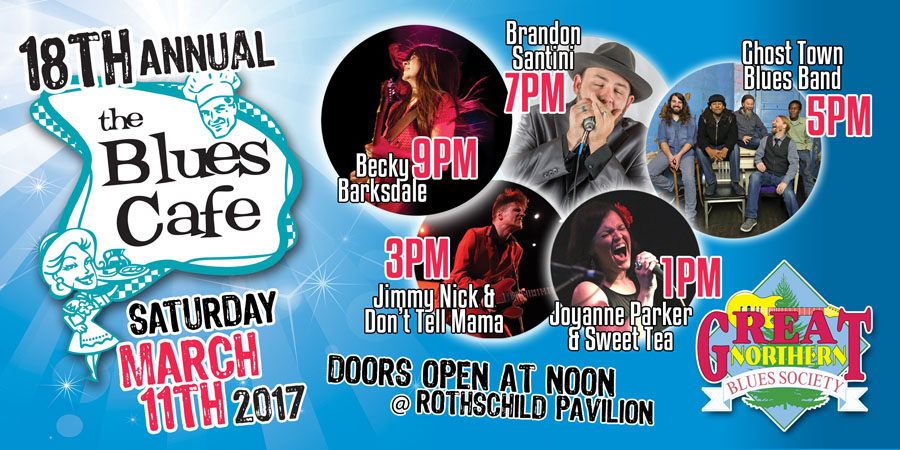 18th Annual Blues Café in the books
We want to thank everyone that attended this year's Blues Café. We feel it was a successful event, and that would not happen without your support -- it is appreciated.
Also, a huge thank you to almost 100 volunteers that help make the event so special. A special tip of the hat goes to Will Ostrem of Central Beer Distributors for his tireless efforts and long hours to make sure we are well hydrated. Without all of you, we'd be sunk.
We felt that all five bands were great, and if there are varying opinions out there we would sincerely appreciate feedback you want to offer. Favorite band? Any other acts that you'd like to see at future shows? Things that could be done better? We'd like to hear. Also, be sure to check out photos on our Facebook page.
Once again, thanks to all for attending, and mark your calendars now for next year's event on March 10, 2018.
A couple comments received via email:
What a WONDERFUL time this weekend - one of the best I have been at! J
Just wanted you to know that we had an absolute blast at the show. The Pavilion is a great venue and the performers were fantastic. Thanks for all you guys do.

Who's on First -- April 26, 2017 • Best Blues Albums of 2016
BLUES FANS, MUSICIANS, SOCIETIES & FELLOW MUSIC TRAVELERS
Had a great time with the Grandkids two weeks ago. Took me two days to recover! Where do they get the energy? Looks like the newest edition will get out to all of you a little early - hope you enjoy it.
Still lookin' for my flip flops - wonder if the cat ghosts ate em'. Did dig out some Spring/Summer shirts with the nicer weather. If this keeps up will need to find the shorts too!
This time of year it's especially important that if you don't see a Blues event/fest you know is coming up soon in Wisconsin or in one of our neighboring states PLEASE let me know the name, date/dates and where it's held. If you have additional info that's NOT available on the web please include all you can. I'll do my best to get any such into the next edition.
DO NOT HESITATE to send on "Who's on First" to other Blues fans! That applies to ALL Blues Societies as well. You all have my FULL permission to share it with all Blues music fans everywhere!!
If life (and politics and/or the weather) are STILL gettin' ya down the Doc has a cure! Get out and LISTEN to some LIVE Blues music. It'll fix ya right up! Warm ya up too! Better then penicillin. There are a WHOLE bunch of opportunities below and in the attachment.
BLUES ALERTS:
Some major artists are touring in Wisconsin and surrounding states in the next few weeks including ANTHONY GOMES at Milwaukee's Shank Hall and Famous Dave's in Minneapolis, MN, the BLASTERS first in St. Paul, MN and later in Green Bay, SAMANTHA FISH in Chicago & Milwaukee, the STEEPWATER BAND does Wausau and later Madison. In addition GOV'T MULE will play the Pabst Theater in Milwaukee in late May and GEORGE THOROGOOD does shows in Michigan, Illinois and Milwaukee later in May. Check the attachment for where, when and sometimes even how much.
Do ya need a major Blues fix?? Like a festival or multi act event? Take a look thru "Who's On..." for info about BLUES FESTIVALS coming up this Summer in the region. Note that the MID WEST MUSIC FEST continues April 28 in Winona, MN. I've added EVEN more fests this edition and will be adding others over the coming weeks as time allows.
Should two weeks pass and you still haven't gotten your copy of "Who's On..." please check either the Great Northern Blues Soc. site or the Madison Blues Soc. web page. Both generally post the latest edition.
If you know any fellow Blues & Blues Rock fans that don't receive "Who's On First" let them know they can drop me a line requesting a copy. I'll be happy to add them to the list!
NEW BLUES GIGS & FESTIVALS?
I'm ALWAYS looking for any Blues gigs, festivals and related events that you know about that aren't shown in this or an earlier "Who's On...". If you have information about an upcoming gig or Blues happening - PLEASE - drop me a line with the who, where, when and other details and I'll consider adding it to the next edition! If you know of a CHANGE (date, location, artists appearing) in a listed event not shown in the latest edition that will STILL be relevant in the NEXT please let me know as well. This goes double for Blues/Blues Rock bands in or not shown in "Who's On..."!
BLUES NEWS:
LONNIE BROOKS PASSES: A great player with teeth, tongue as well as fingers used by most of his contemporaries Lonnie (born Lee Baker, Jr. in Louisiana) left us April 1st in Chicago, ILLINOIS at the age of 83. After touring with Clifton Chenier he billed himself as 'Guitar Jr.' when going solo. Lonnie changed his stage name again to Brooks when he moved to Chicago around 1960 and found that Luther Johnson was using the 'Guitar Junior' moniker. His sons continue the family tradition of writing, touring and playing great Blues.
CHUCK BERRY DIES: Considered by many to be the "Father of Rock & Roll" Chuck joined the big JAM up above March 18th at the age of 90. Before recording some of the best of early Rock Chuck (born Charles Andrew Edward Berry) he sang & released some Blues. On his birthday October 18, 2016 Berry announced a new album titled simply Chuck to be released around June of 2017.
"MR. SUPERHARP" IS GONE: James Cotton passed March 16. He was 81. Cotton played with many of Blues greats as well as Santana, Gregg Allman and the Grateful Dead. James learned the harmonica from none other than Sonny Boy Williamson II (Rice Miller) actually moving in with his mentor when James was only nine.
2017 BLUES HALL OF FAME INDUCTEES ANNOUNCED: The Blues Foundation will be inducting MAVIS STAPLES, MAGIC SLIM, JOHNNY COPELAND, HENRY GRAY, LATIMORE and WILLIE JOHNSON into the Blues Hall of Fame along with one album, five singles, one book and one magazine founder at the 38th Annual Induction Ceremony at the Halloran Centre for the Performing Arts and Education in Memphis, TN on May 10th. The event kicks off at 5:30 with a reception and the ceremony follows at 6:30 PM. Tickets are on sale now for $100 per seat at blues.org or by calling the foundation at 901 527-2583.
The Blues Music Awards follow on May 11 starting with a pre-ceremony party at 5:30 PM. The Award show including a seated dinner and featuring performances by many of the nominees starts at 7 PM. Tickets and tables can be purchased now for $150 a seat at the above site or phone number.
CENTENNIAL CELEBRATION FOR WISCONSIN'S PARAMOUNT RECORDS: Paramount Records was founded in 1917 as the record division of the Wisconsin Chair Company. Wisconsin Chair made phonograph cabinets first for Edison Records and decided to make its own line plus records to go with them in Grafton, Wisconsin.
An odd location for a record company - especially one doing a lot of Blues - Paramount recorded many early Blues artists including MA RAINEY, ALBERTA HUNTER, CHARLEY PATTON, IDA COX, BLIND LEMON JEFFERSON, JELLY ROLL MORTON, BLIND BLAKE and many more. Along with Okeh and what became Columbia records Paramount produced the bulk of early Blues recordings. July 2 of 2017 marks the 100th anniversary of the label.
BLUES HALL OF FAME: Remains open to the public down in Memphis, TN. Stop in when you're in the area. The Hall has extended its hours to SEVEN days a week from 10 AM to 5 PM Monday thru Saturday and 1 PM to 5 PM on Sunday. Costs are $10 for adults and $8 for students ages 13 to 18.
BLUES BABY BIRTHDAYS:
Musicians who perform or performed Blues, Gospel, R&B, Soul and other related musical forms born between April 23 and May 6 that I've found dates for follow:
BIG MAYBELLE, Earl Bostic, Wayne Baker Brooks, Ada Brown, Eddie C. Campbell, Billy Davenport, 'COW COW' Davenport, REV. GARY DAVIS, Tyron Davis, Marvin Gaye, Cecil Grant, Phil Guy, J.B. HUTTO, Willie 'Gator' Jackson, Sharon Jones, ALBERT KING, Ralph Kinsey, Andy Kulberg, Major Lance, Frankie Lee, songwriter Jerry Leiber, LITTLE WALTER, Cosimo Matassa (established the 1st recording studio in New Orleans), Jimmy McGriff, Big Jay McNeely, BLIND WILLIE MCTELL, Jay Miller, MA RAINEY, Jimmy Lee Robinson, OTIS RUSH, Mabel Scott, JOHNNY SHINES, Frankie Lee Sims and Hop Wilson.
So LIFT up a glass of whatever cranks your engine and wish each and every one of the artists above a VERY, VERY HAPPY BIRTHDAY! Some may be gone but their music lives on. If you'd like to know more about any of the above Google their name - most will show up in Wikipedia, Allmusic, Reverbnation, their own site or somewhere else on the web.
You can also check many of them out in books such as Robert Santelli's excellent THE BIG BOOK OF BLUES - a biographical encyclopedia, Brian Robertson's LITTLE BLUES BOOK illustrated by R. Crumb, BLUES FOR DUMMIES written by Lonnie Brooks, Cub Koda and Wayne Baker Brooks, THE BLUES - THE EXPERTS GUIDE TO THE BEST BLUES RECORDINGS edited by Michael Eriewine, Vladimir Bogdanov, Chris Woodstra and Cub Koda or a number of other works about Blues & related artists.
BLUES RADIO CHARTS:
The MOST recent Roots Music Report Top 50 Blues albums list dates from April 22 shows Coco Montoya's newest HARD TRUTH at #1, Samantha Fish's CHILLS & FEVER moving to 2nd, John Mayall's TALK ABOUT THAT moving up to 3rd, Hurricane Ruth's AIN'T READY FOR THE GRAVE at fourth and Elvin Bishop's ELVIN BISHOP'S BIG FUN TRIO moved down to #5.
The rest of this weeks Top Ten Blues albums are from Anthony Rosano & the Conqueroos, Southern Avenue, Sean Chambers, the Tedeschi Trucks Band and Big Bill Morganfield.
This weeks Top Five Blues songs per the same Roots Music Report are "The Devil Must Be Laughing" by John Mayall, "Freak Flag" offered up by Southern Culture On The Skids, "Off The Ground" from the Record Company, "Rolling On" done by Peter Wolf and "Don't Know What It Means" recorded by the Tedeschi Trucks Band.
Blues on the Wisconsin Roots Music chart has LIVE FROM TRANSYLVANIA done by the Jimmy's at number 2 and the ONLY Blues album on the list. All seven remaining albums are done in different genres.
The Living Blues Magazine Radio chart comes out every month covering plays from the PREVIOUS month so. The April report reflecting March plays has Elvin Bishop's ELVIN BISHOP'S BIG FUN TRIO remaining at #1, Big Bill Morganfield's BLOODSTAINS ON THE WALL still at #2, Samantha Fish's CHILLS & FEVER released by RUF third, Thornetta Davis's HONEST WOMAN in fourth and Coco Montoya's brand new HARD TRUTH at #5.
The next five albums for March plays were done by Sean Chambers, Thorbjorn Risager & Black Tornado, Southern Avenue and Hurricane Ruth.
FESTIVALS:
Festival action is starting to heat up as the weather improves. Check out the bill for BIG BULL FALLS BLUES FESTIVAL in the attachment plus the COMPLETE bill for the PRAIRIE DOG FEST and what's known about both the FARGO BLUES FESTIVAL, BAYFRONT and a number of other returning events. I've added more festivals since the last edition and will put in additional ones in future editions.
WAUSAU AREA MUSIC:
A few Musical or Blues happenings coming up in the near future in or around Wausau or within a reasonable drive (about a 100 miles) that you might want to consider are Cadillac Pete & Howard Luedtke May 14 in Nekoosa, Hip Pocket June 16 at Wausau's Bull Falls Brewery, Aaron Williams & the Hoodoo 4/28 at the Great Dane in Wausau, Sons of Legend April 29 in Green Bay, Chris Brandenburg & the Bluetones June 24 at Classics Lounge in Shawano, Left Wing Bourbon May 11 in Chippewa Falls, "Big Dog" Murphy & the Mob April 29 in Appleton, Bobby Evans July 7 in Appleton, Donnie Pick April 30 in Menchalville and Big Mouth & the Power Tool Horns April 29 in Green Bay. Get details on these and LOTS more in the attachment.
EVENTS A BIT FURTHER AWAY:
Among BLUES or related music further afield that may be of interest are BILLY FLYNN and Friends 4/30 at B.L.U.E.S. on Halsted in Chicago, THE BLASTERS May 9 in St. Paul, MN., RHIANNON GIBBONS June 13 at Turner Hall in Milwaukee, COMMAND- ER CODY May 19 in Minneapolis & 5/20 in La Crosse, EDGAR WINTER May 4 in Minneapolis, MN, JOE ELY May 5 in Milwaukee, SAMANTHA FISH May 11 at Chicago's City Winery and May 12 at Shank Hall in Milwaukee, GOV'T MULE May 26 in Milwaukee, NORAH JONES June 2 in Milwaukee, ANTHONY GOMES May 4 in Milwaukee and 5/5 in Minneapolis, GOV'T MULE May 26 in Milwaukee, JOHNNY RAWLS June 1 in Springfield, IL, GEORGE THOROGOOD May 26 in MICHIGAN, 5/29 in ILLINOIS and May 30 at the Pabst Theater in Milwaukee, SOUTHBOUND May 6 at Shank Hall in Milwaukee, SCOTT HOLT May 19 at Buddy Guy's in Chicago and JOHN NEMETH April 28 at Famous Dave's in Minneapolis
BLUES RADIO:
If you're looking for a Blues fix on the radio tune into "Blues Friday" starting at 6 PM until 12 AM on Rhinelander's WXPR 91.7 FM and 91.8 in Wausau. You can also pick it up on the World wide web as well NO matter where ya live!
Yours in the Blues;
Blues Doctor
The Great Northern Blues Society meets every second Tuesday of the month at 7 pm, (in the back room) at Loppnow's Bar, 1502 N. Third Street in Wausau.
All members are invited and encouraged to attend.
Email us for more information or with any questions.