18th Annual Blues Café Lineup

Saturday,
March 11, 2017

Rothschild Pavilion
Rothschild, WI

1 PM

The Joyanne Parker Band

3 PM

Jimmy Nick & Dont' Tell Mama

5 PM

Ghost Town Blues Band

7 PM

Brandon Santini

9 PM

Becky Barksdale

Bing Futch




Acoustic act between main stage acts

Tickets only $20 advance / $25 door


Click on image for PDF
of this year's event poster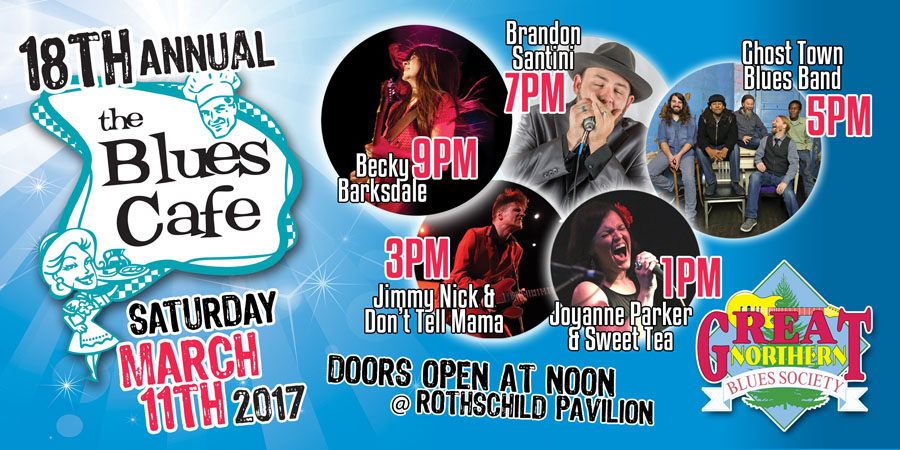 Who's on First -- January 18, 2017 • Best Blues Albums of 2016
BLUES FANS, MUSICIANS, SOCIETIES AND FELLOW MUSIC TRAVELERS
This issue finished up a week later than I planned. It takes a LOT more work and time to catch up with band schedules than I thought after a month off! Hope this latest edition finds you all having a incredible NEW YEAR (so far) in 2017.
I was in downtown Wausau Monday night when the rain turned to ice. You could skate down the sidewalks but walking was impossible. Ended up walking down Stewart Ave. dodging cars.
Also attached you'll find my picks for the BEST BLUES releases of 2016. If a favorite of yours doesn't show up perhaps it made the 2015 list. If not there were a number of fine albums that came close to making the cut.
If you don't see a Blues event/fest you know is coming up in Wisconsin or in one of our neighboring states let me know the name, date/dates and where it's held. If you have additional info that's NOT available on the web please include all you can. I'll do my best to get any such into the next edition.
If life (and politics) (and the weather) are STILL gettin' ya down the Doc has a cure! Get out and LISTEN to some LIVE Blues music. It'll fix ya right up! Warm ya up too! Better then penicillin. There are a WHOLE bunch of opportunities below and in the attachment.
BLUES ALERTS:
Festival action?? Mostly over in our climate until warmer weather and early Spring. MARK YOUR CALENDAR - March 11th is BLUES CAFE 2017 returning to the Rothschild Pavilion with a total of SIX acts including the GHOST TOWN BLUES BAND, BRANDON SANTINI and BECKY BARKSDALE! See the attachment for all the details.
Should two weeks pass and you still haven't gotten your copy of "Who's On..." please check either the Great Northern Blues Soc. site or the Madison Blues Soc. web page. Both generally post the latest edition.
If you know any fellow Blues & Blues Rock fans that don't receive "Who's On First" let them know they can drop me a line requesting a copy. I'll be happy to add them to the list!
NEW BLUES GIGS & FESTIVALS?
I'm ALWAYS looking for any Blues gigs, festivals and related events that you know about that aren't shown in this or an earlier "Who's On...". If you have information about an upcoming gig or Blues happening - PLEASE - drop me a line with the who, where, when and other details and I'll consider adding it to the next edition! If you know of a CHANGE (date, location, artists appearing) in a listed event not shown in the latest edition that will STILL be relevant in the NEXT please let me know as well. This goes double for Blues/Blues Rock bands in or not shown in "Who's On..."!
BLUES NEWS:
BARRELHOUSE CHUCK PASSES: Chuck lost his battle with cancer Dec. 12th. He played keyboards with many Blues greats both nationally and regionally. He will be missed.
SHARON JONES JOINS THE BIG JAM UP ABOVE: Sharon was the vocalist for the Dap-Kings and lost her battle with cancer on November 13th in Cooperstown, NY. Another great artist is gone. Sharon was only 60.
BARRELHOUSE CHUCK'S MEDICAL BILLS: Chuck lost his battle with Prostate Cancer Dec. 12th but still has some stiff bills to pay off. A Go Fund Me account remains up into January to help. If you'd like to lend a hand go to the following: gofundme.com and look for the one for Chuck.
2017 DATES ANNOUNCED FOR THE 33RD INTERNATIONAL BLUES CHALLENGE:
Memphis will be rockin' from January 31st to February 4th of 2017 with the 33rd IBC! If you're a Blues fan and have never attended - give HARD consideration to taking this event in next year. Acts from all over the World playing venues up and down Beale Street! One great big tasty dose of the Blues!
BLUES HALL OF FAME: Remains open to the public down in Memphis, TN. The Hall now has extended its hours to SEVEN days from 10 AM to 5 PM Monday thru Saturday and 1 PM to 5 PM on Sunday. Costs are $10 for adults and $8 for students ages 13 to 18. Take it in if you're there or plan to.
BLUES BABY BIRTHDAYS:
Musicians who perform or performed Blues, Gospel, R&B, Soul and other related musical forms born between Jan. 15 and 28 follow: Kip Anderson, John Belshi, BOBBY "BLUE" BLAND, John Campbell, Lester "Mad Dog" Davenport, Cyril Davis, Luther Dickerson, Snooks Eaglin, SLEEPY JOHN ESTES, HENRY GREY, Beth Hart, Rickie Havens, Erwin Hefler, "Snooky" Hogg, Derek Holt, EARL HOOKER, ELMORE JAMES, ETTA JAMES, Blind Willie Johnson, Vance Kelly, Bnois King, LEAD-BELLY, Barbara Lynn, Cash McCall, Johnny B. Moore, "Buddy" Moss, Aaron Neville, Hammie Nixon, Hot Lips Page, David Ruffin, Little Mack Simmons, "Piano" Smith, "Whispering" Smith, WILLIE "BIG EYES" SMITH, Baby Tate, LUTHER TUCKER, Rev. Robert Wilkins, Lucinda Williams, Charles Wilson and Zora Young all entered the World within this TWO week period.
LIFT up a glass of whatever floats your boat and wish each and everyone above a VERY VERY HAPPY BIRTHDAY! Some may be gone but their music lives on. If you'd like to know more about any of the above Google their name - most will show up in Wikipedia, Allmusic, Reverbnation, their own site or somewhere else on the web.
You can also check many of them out in books such as Robert Santelli's excellent THE BIG BOOK OF BLUES - a biographical encyclopedia, Brian Robertson's LITTLE BLUES BOOK illustrated by R. Crumb, BLUES FOR DUMMIES written by Lonnie Brooks, Cub Koda and Wayne Baker Brooks, THE BLUES - THE EXPERTS GUIDE TO THE BEST BLUES RECORDINGS edited by Michael Eriewine, Vladimir Bogdanov, Chris Woodstra and Cub Koda or a number of other works about Blues & related artists.
BLUES RADIO CHARTS:
The MOST recent Roots Music Report Top 50 Blues albums list is dated Jan. 14 still has Colin James BLUE HIGHWAYS at #1, MAKE BLUES NOT WAR by Mike Zito remains at 2nd, Norah Jones DAY BREAKS moved up to third, David Bromberg's THE BLUES, THE WHOLE BLUES AND NOTH-ING BUT THE BLUES is at #4 and Tas Cru's SIMMERED & STEWED hold down #5.
The rest of the current Top Ten Blues albums are from the Big Head Blues Club, JW Jones, Bobby Rush, the Fabulous Thunderbird and Melissa Etheridge.
This weeks Top Five Blues songs in the same Roots Music Report are one of the tunes from Lil' Ed & the Blues Imperials, "Off The Ground" from the Record Company is second, "Just Your Fool" done by the Rolling Stones is 3rd, "Rolling On" by Peter Wolf fourth and "Freak Flag" done by Southern Culture on the Skids holds the #5 spot.
Blues on the Wisconsin Roots Music chart has the brand new LIVE FROM TRANSYLVANIA from the Jimmy's at number one plus their earlier release HOT DISH. The Altered Five's CRYIN' MERCY and Tweed Funks COME TOGETHER also made the top ten.
The Living Blues Magazine Radio chart comes out every month covering the PREVIOUS month. As of Jan. 1st the DECEMBER plays have been totaled and show Mississippi Heat's latest CAB DRIVING MAN on the Delmark label still #1, Rory Block's latest KEEPIN' OUTTA TROUBLE 2nd, Trudy Lynn's I'LL SING THE BLUES FOR YOU third, Mitch Kashmar's WEST COST TOAST in fourth and Colin James BLUE HIGHWAYS at number 5.
The next five albums for December are from Mike Zito, Wee Willie Walker, Sugar Ray & the Bluetones, the Knickerbocker All Stars and Lil' Ed & the Blues Imperials.
FESTIVALS:
Fest action is just about done until things warm up in our area. Hope can be found for Blues fans coming up March 11 when BLUES CAFE 2017 comes to the Rothschild Pavilion! Doors open at 12 PM and music starts at 1 with Joyann Parker & Sweet Tea followed by JIMMY NICK & DON'T TELL MAMA. Later the GHOST TOWN BLUES BAND hits the stage followed by BRANDON SANTINI and his band and the headliner - BECKY BARKSDALE!! Between main stage acts BUTCH FUTCH winner of the Duo/Solo competition at the 2016 International Blues Challenge plays acoustically.
WAUSAU AREA MUSIC:
A few Musical or Blues happenings coming up in the near future in or around Wausau or within a reasonable drive (about a 100 miles) that you might want to consider include Dale Anderson 1/27 in Green Bay, Nick Foytik Jan. 24 in Tomah, Donnie Pick & the Road Band Feb. 3 in Wausau, Aaron Williams & the Hoodoo Feb. 10 at Wausau's Great Dane, Hip Pocket 1/21 (Corporate event) in Merrill, Left Wing Bourbon Feb. 18 in Chippewa Falls, the Dave Steffen Band 1/20 in Menasha, Howard Luedtke & Blue Max Jan. 27 at Wausau's Great Dane, the Jimmy's Jan. 21 in Green Bay and the Alex Wilson Band 1/20 at Malarkey's in Wausau. Get details on these and more in the attachment.
EVENTS A BIT FURTHER AWAY:
Among BLUES or related music further afield that might capture you're interest are the DRIVE BY TRUCKERS Feb. 1 at Turner Hall in Milwaukee, GLADYS KNIGHT Feb. 2 at the Pabst in Milwau-kee, DAVINA & THE VAGABONDS Feb. 3 at Wilebski's in St. Paul, ALBERT LEE Feb. 7 at SPACE in Evanston, IL and LIL' ED & THE BLUES IMPERIALS Feb. 10 at Famous Dave's in Minneapolis.
BLUES RADIO:
If you're looking for a Blues fix on the radio tune into "Blues Friday" starting at 6 PM until 12 AM on Rhinelander's WXPR 91.7 FM and 91.8 in Wausau. You can also pick it up on the World wide web as well NO matter where ya live!
Yours in the Blues;
Blues Doctor
Thank you!
We want to thank everyone that attended this year's Blues Café on March 12, 2016. It was a definite success, and that would not happen without your support -- it is appreciated.
Also, a heartfelt thank you to almost 100 volunteers that help make the event so special. Without you, we'd be sunk.
We felt that all five bands were great, and if there are varying opinions out there we would sincerely appreciate any feedback that you want to offer. Favorite band? Any other acts that you'd like to see at future shows? Things that could be done better? We'd like to hear it all.
Keep in mind that we also count on society memberships. Every $10 goes toward the support of our society, and is vital in our continuing effort to spread the gospel of the blues!
Once again, thanks to all for attending!
Mike "Mr. T" Tatro
GNBS President
Thought we'd share a few comments about the show . . .
Thank you, thank you, thank you!! To the GNBS crew for that AMAZING show yesterday! The 2016 Blues Cafe was beyond compare! BEST CAFE EVER!! It was a showcase of the finest talent out there! The high energy of AWATH and Left Lane Cruiser, followed by the laid-back Ray Fuller and soulful Lionel Young, capped off by the guitar ripping Albert Cummings...brilliant! When I first saw the lineup I was giddy with anticipation and it was certainly NOT a disappointment! Kudos to whomever put that lineup together! I can only think that this genius was also responsible for the lineup for BBF in August...quite possibly the flush toilet and sliced bread as well! Well done and THANKS again! It was a terrific show! -- Shawn from Wausau
BEST BLUES CAFE EVER! -- Derek from Wausau
Great job on the event. LOVE THE SIGN ON THE STAGE. I know I mentioned it to you. But, to me, it added a lot. -- Peter from Grafton

Great show! -- Mitch
2016 Blues Cafe Blues Festival, Wausau WI! What a great crowd of dancers we had on this spring loaded floor! Put this festival on your 2017 must attend list! -– Sherri from Columbus, Ohio
Thanks it was an incredible night of great music and all the bands were great, especially Aaron Williams and Albert Cummings. -- Stephanie Howell
As someone who has been involved in the live entertainment industry for 30+ years, I want to applaud you for stepping away from the 'norm' with blues shows, merely hiring a band to bring their PA in for your event. Too many organizations cut corners and go the cheap route. It's obvious that you care about the presentation of the music. -- Stuart
The Great Northern Blues Society meets every second Tuesday of the month at 7 pm, (in the back room) at Loppnow's Bar, 1502 N. Third Street in Wausau.
All members are invited and encouraged to attend.
Email us for more information or with any questions.