We still have some volunteer spots open for this year's Blues Cafe.

Sign up now on SignUp.com and get free admission to the event and a couple adult beverages on us for working a two-hour shift.
18th Annual Blues Café Lineup

Saturday,
March 11, 2017

Rothschild Pavilion
Rothschild, WI


Click on image for PDF
of this year's event poster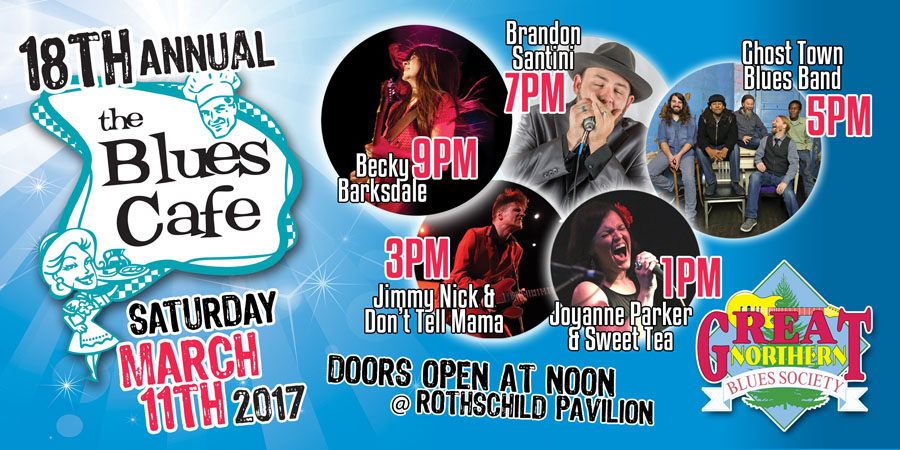 If you're planning on attending the Blues Cafe in March, and need a place to stay, be sure to check out the special deal we've got going on with the Stoney Creek Hotel & Conference Center.
When booking room, be sure to mention you'll be attending the Blues Cafe to receive a special discount of 20% OFF ANY ROOM!
Rates are good for either Friday, March 10 or Saturday, March 11.

Who's on First -- February 15, 2017 • Best Blues Albums of 2016
BLUES FANS, MUSICIANS, SOCIETIES AND FELLOW MUSIC TRAVELERS
Things are thawing out in the Northland. The Weather Service is predicting temps in the HIGH 40's this weekend up here. Hope the weather is or soon will be to your liking wherever you are and (once again) that this latest edition finds ALL of you & yours having a incredible NEW YEAR.
If you don't see a Blues event/fest you know is coming up in Wisconsin or in one of our neighboring states let me know the name, date/dates and where it's held. If you have additional info that's NOT available on the web please include all you can. I'll do my best to get any such into the next edition.
If life (and politics - and the weather) are STILL gettin' ya down the Doc has a cure! Get out and LISTEN to some LIVE Blues music. It'll fix ya right up! Warm ya up too! Better then penicillin. There are a WHOLE bunch of opportunities below and in the attachment.
BLUES ALERTS:
Some major artists are touring in Wisconsin and some of surrounding states in the next few weeks including MARCIA BALL, ANA POPOVIC, SHEMEKIA COPELAND and the SUB-DUDES. Check the attachment for where, when and sometimes how much.
Do ya need a major Blues fix?? Like a festival or multi act event? It's a little early in our climate BUT there some events coming up in the festival category that will give you a GOOD one!
MARK YOUR CALENDAR - March 11th is BLUES CAFE 2017 returning to the Rothschild Pavilion with a total of SIX acts including the GHOST TOWN BLUES BAND, BRANDON SANTINI and BECKY BARKSDALE! Tickets are NOW available via the Great Northern Blues Soc. website - www/gnbs.org at advance prices of $20 per ticket.
If you want something sooner you might consider the ALLIGATOR RECORDS BLUES FESTIVAL scheduled for March 3 & 4 in Oshkosh's Grand Opera House featuringMARCIA BALL, TORONZO CANNON, SELWYN BIRCHWOOD, MORELAND & ARBUCKLE and more! Details on both events can be found in the attachment.
Should two weeks pass and you still haven't gotten your copy of "Who's On..." please check either the Great Northern Blues Soc. site or the Madison Blues Soc. web page. Both generally post the latest edition.
If you know any fellow Blues & Blues Rock fans that don't receive "Who's On First" let them know they can drop me a line requesting a copy. I'll be happy to add them to the list!
NEW BLUES GIGS & FESTIVALS?
I'm ALWAYS looking for any Blues gigs, festivals and related events that you know about that aren't shown in this or an earlier "Who's On...". If you have information about an upcoming gig or Blues happening - PLEASE - drop me a line with the who, where, when and other details and I'll consider adding it to the next edition! If you know of a CHANGE(date, location, artists appearing) in a listed event not shown in the latest edition that will STILL be relevant in the NEXT please let me know as well. This goes double for Blues/Blues Rock bands in or not shown in "Who's On..."!
BLUES NEWS:
BLUES & RELATED GRAMMY WINNERS ANNOUNCED: The 59th annual Grammy's just finished up. If you missed or didn't watch the entire event on TV BOBBY RUSH won for Best Tradition-al Blues Album for Porcupine Meat! Congrats to Bobby - a great and talented artist that we've been lucky enough to have with us for a number of years.
Best Contemporary Blues Album honors went to FANTASTIC NEGRITO for their release The Last Days of Oakland. In R&B LALAH HATHAWAY scored for Best Traditional R&B Performance for "Angle" from her release Lalah Hathaway Live which also brought her Best R&B Album of the Year. In Gospel Best Gospel Song went to "God Provides" by Tamela Mann from her album One Way. Check out winners in other categories at www.grammy.com.
2017 INTERNATIONAL BLUES CHALLENGE WINNERS ANNOUNCED: 260 Bands from 38 states and 14 countries competed this year in Memphis for either band or solo/duo awards. In band competition DAWN TYYLER WATSON came in first (she reached the top five at the IBC four years ago). The SOULIZ BAND FEATURING SUGAR & SPICE were second and RAE GORDON & THE BACKSEAT DRIVERS were third.
Solo/Duo honors went to AL HILL who also scored Best Solo Guitar. BRODY BUSTER came in second plus earning Best Harp Player.
Best Self-Produced CD was won by JW Jones for High Temperature. Congratulations from the Doc to ALL of this year's IBC competitors in every category!! See below for ALL Self Produced CD nominees.
BLUES FOUNDATION ANNOUNCES FINALISTS FOR THE 2017 BEST SELF-PRODUCED CD:
In late January the Blues Foundation released the five nominees for Best Self-Produced CD for 2017. Included are Wisconsin's own TWEED FUNK for their latest album COME TOGETHER. The remaining four are the Jon Spear Band's LIVE MUSIC IS BETTER, JW Jones HIGH TEMPERATURE, Chris O's WAILIN' & RAGGIN' THE BLUES and Sammy Eubanks SUGAR ME. The winner will be announced Feb. 4th at the Orpheum Theater in Memphis at the end of the International Blues Challenge. I've heard 3 of the above but I'm rootin' for Tweed Funk!! Lots of luck to em'!
BARRELHOUSE CHUCK'S MEDICAL BILLS: Chuck lost his battle with Prostate Cancer Dec. 12th but still has some stiff bills to pay off. A Go Fund Me account remains up into January to help. If you'd like to lend a hand go to the following: gofundme.com and look for the one for Chuck.
BLUES HALL OF FAME: Remains open to the public down in Memphis, TN. The Hall now has extended its hours to SEVEN days from 10 AM to 5 PM Monday thru Saturday and 1 PM to 5 PM on Sunday. Costs are $10 for adults and $8 for students ages 13 to 18. Take it in if you're there or plan to.
BLUES BABY BIRTHDAYS:
Musicians who perform or performed Blues, Gospel, R&B, Soul and other related musical forms born between Feb. 12 to the 25 follow: Pink Anderson, Kokomo Arnold, Paul Bascomb, Lou Ann Barton, Scrapper Blackwell, Perry Bradford, Doyle Bramhall, Andrew Brown, Tyler Bryant, Toronzo Cannon, Bobby Charles, Gary Clark Jr., Ida Cox, Driftin' Slim, Chris Duarte, Patrick Ford, Corey Harris, John Jackson, MAGIC SAM, Freddie Robinson, NINA SIMONE, Irma Thomas, Noble "Thin Man" Watts, JOHNNY WINTER, Big John Wrencher and Jimmy "Papa" Yancey all entered the World within this TWO week period.
So once again LIFT up a glass of whatever floats your boat and wish each and everyone of the artists above a VERY, VERY HAPPY BIRTHDAY! Some may be gone but their music lives on. If you'd like to know more about any of the above Google their name - most will show up in Wikipedia, Allmusic, Reverbnation, their own site or somewhere else on the web.
You can also check many of them out in books such as Robert Santelli's excellent THE BIG BOOK OF BLUES - a biographical encyclopedia, Brian Robertson's LITTLE BLUES BOOK illustrated by R. Crumb, BLUES FOR DUMMIES written by Lonnie Brooks, Cub Koda and Wayne Baker Brooks, THE BLUES - THE EXPERTS GUIDE TO THE BEST BLUES RECORDINGS edited by Michael Eriewine, Vladimir Bogdanov, Chris Woodstra and Cub Koda or a number of other works about Blues & related artists.
BLUES RADIO CHARTS:
The MOST recent Roots Music Report Top 50 Blues albums list is dated Feb. 11 and shows John Mayall's TALK ABOUT THAT at #1, Elvin Bishop's ELVIN BISHOP'S BIG FUN TRIO in second, Thornetta Davis's HONEST WOMAN moving into 3rd from the 17 spot, Mike Zito's MAKE BLUES NOT WAR fourth and Colin James BLUE HIGHWAYSmoving to #5.
The rest of this weeks Top Ten Blues albums are from David Bromberg, Tas Cru, Popa Chubby, the Record Company and Bobby Rush.
This weeks Top Five Blues songs from the same Roots Music Report are one of the tunes from THE BIG SOUND OF LIL' ED & THE BLUES IMPERIALS, "Off The Ground" from the Record Company is second, "It's Hard Going Up" from John Mayall is 3rd, Elvin Bishop's "Ace In the Hole" is at #4 and "Talk About That" the title track from John Mayall's latest is #5.
Blues on the Wisconsin Roots Music chart has the brand new LIVE FROM TRANSYLVANIA from the Jimmy's remains number one. The Altered Five's CRYIN' MERCY and Tweed Funks COME TOGETHER also stayed in the Wisconsin top ten for this week.
The Living Blues Magazine Radio chart comes out every month covering plays from the PREVIOUS month. JANUARY plays totaled Feb. 1 have John Mayall's TALK ABOUT THAT at #1, Mississippi Heat's latest CAB DRIVING MAN from Delmark at #2, Ronnie Baker Brooks TIMES HAVE CHANGED third, MAKE BLUES NOT WAR by Mike Zito fourth and the Knickerbocker All-Stars TEXAS RHODY BLUES at number 5.
The next five albums for January are from Wee Willie Walker, Sharon Jones, Popa Chubby, Elvin Bishop and the Rolling Stones.
FESTIVALS:
Fest action is just about done until things warm up in our area. Hope can be found for Blues fans coming up March 11 when BLUES CAFE 2017 comes to the Rothschild Pavilion! Doors open at 12 PM and music starts at 1 with Joyann Parker & Sweet Tea followed by JIMMY NICK & DON'T TELL MAMA. Later the GHOST TOWN BLUES BANDhits the stage followed by BRANDON SANTINI and his band and the headliner - BECKY BARKSDALE!! Between main stage acts BUTCH FUTCH winner of the Duo/Solo competition at the 2016 International Blues Challenge plays acoustically. Earlier I mentioned other festival or like events coming up in February.
WAUSAU AREA MUSIC:
A few Musical or Blues happenings coming up in the near future in or around Wausau or within a reasonable drive (about a 100 miles) that you might want to consider include CHARLIE PARR 2/24 at the Dreyfus Center at UW-Stevens Point and 2/25 at the Lyric Room in Green Bay, Donnie Pick at Frets & Friends in Green Bay Feb. 17, Serious Jones 2/17 at Wausau's Intermission, Highway 414 March 4 at Wausau's Intermission, 20 Watt Tombstone Feb. 18 at Appleton's Cold Shot, Robert Allen Jr. w/Cadillac Pete 2/24 at the Intermission in Wausau, DAVINA & THE VAGABONDS 2/17 in Fond du Lac, Nick Foytik Feb. 21 at the Bank in Tomah, Michael Murphy & the Mob 2/18 at Cruisin' 1724 in Wausau, Left Wing Bourbon Feb. 18 in Chippewa Falls and Hip Pocket Feb. 18 at the North Star in Antigo. Get details on these and more in the attachment.
EVENTS A BIT FURTHER AWAY:
Among BLUES or related music further afield that might capture you're interest are POKEY LA FARGE Feb. 15 at the Stoughton Opera House, the STEEPWATER BAND Feb. 17 at Mary's Place in Rockford, IL, ERIC NODEN 2/17 at Von Trier's in Milwaukee, VALERIE JUNE 2/21 at Turner Hall in Milwaukee, VALERIE JUNE Feb. 21 at Turner Hall in Milwaukee, ANA POPOVIC at Shank Hall in Milwaukee Feb. 23 plus Feb. 25 at the Opera House in Green Lake, the GHOST TOWN BLUES BAND Feb. 24 in Rockford, IL, Studebaker John & the Hawks Feb. 26 at the Knuckledown in Madison and Marcia Ball Mar. 4 at Hooligans in Mankato, MINNESOTA.
BLUES RADIO:
If you're looking for a Blues fix on the radio tune into "Blues Friday" starting at 6 PM until 12 AM on Rhinelander's WXPR 91.7 FM and 91.8 in Wausau. You can also pick it up on the World wide web as well NO matter where ya live!
Yours in the Blues;
Blues Doctor
The Great Northern Blues Society meets every second Tuesday of the month at 7 pm, (in the back room) at Loppnow's Bar, 1502 N. Third Street in Wausau.
All members are invited and encouraged to attend.
Email us for more information or with any questions.