18th Annual Blues Café Lineup

Saturday,
March 11, 2017

Rothschild Pavilion
Rothschild, WI


Click on image for PDF
of this year's event poster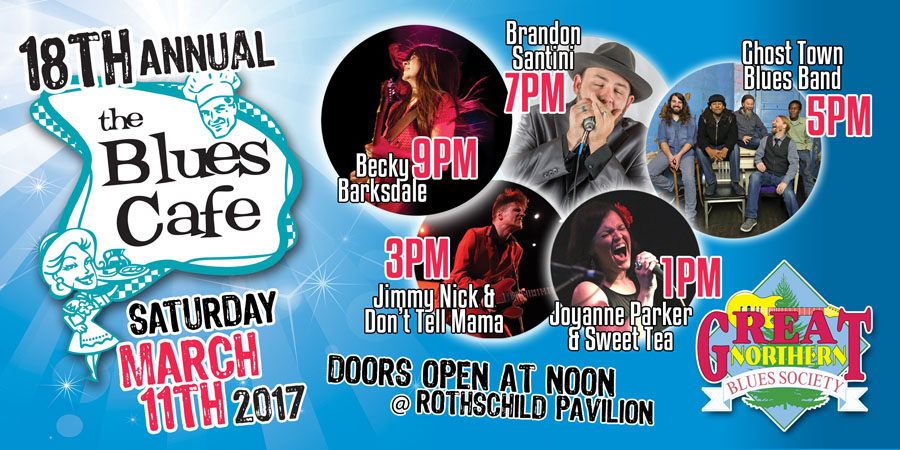 Who's on First -- March 15, 2017 • Best Blues Albums of 2016
BLUES FANS, MUSICIANS, SOCIETIES & FELLOW MUSIC TRAVELERS
If you didn't attend this year's BLUES CAFE you missed a GREAT show! I hadn't seen ANY of this year's artists live although I'm a longtime fan of both the Ghost Town Blues Band and Brendan Santini.
Action started with the Joyann Parker Band who lit up the whole pavilion. This Lady has one heck of a voice! After hearing her do a few songs a Blues buddy exclaimed "I'm in love"! I can relate.
Jimmy Nick & Don't Tell Mama were next and filled the dance floor to overflowing. Jimmy performs with incredible energy and kept it up throughout the entire set. The GHOST TOWN BLUES BAND followed at 5 PM and kept the crowd on their feet and dancin'! Suavo Jones on trombone must get his coffee from the same source as Nick cause he kept movin' for the full 90 minutes the band was on.
BRANDON SANTINI and his band took over around 7 PM. A nice surprise was having Brandon invite Cadillac Pete and a Wisconsin drummer from Eau Claire to join him on stage. Together Pete & Brandon put on a fantastic harmonica blowout!
BECKY BARKSDALE and her backing band finished the night out starting at 9. She's an extremely talented guitar player and a good vocalist but for me a bit of a disappointment especially after Ghost Town and Santini. One man's opinion.
Between main stage acts Bing Futch played at the rear of the hall. Bing was a finalist in the Solo/Duo category at the 2016 International Blues Challenge in Memphis and WON Best Guitar player. He played a wide variety of sting instruments including the ukulele! Not a common Blues instrument. Early his performance was marred due to the lack of an amp but that was taken care of later. His sessions seemed well attended and the audience appreciative.
In total the Doc thought this was one of the best set of performances at a Cafe's ever! I especially enjoyed the Ghost Town Blues Band and Brendon Santini. Even thought I was somewhat disappointed in Becky Barksdale ALL the other artists nailed it and then some.
Kind of interesting to hear people in the east complaining about snow when we in North Central Wisconsin have almost none! Well - I'm ready for Spring.
If you don't see a Blues event/fest you know is coming up in Wisconsin or in one of our neighboring states let me know the name, date/dates and where it's held. If you have additional info that's NOT available on the web please include all you can. I'll do my best to get any such into the next edition.
DO NOT HESITATE to send on "Who's on First" to other Blues fans! That applies to ALL Blues Societies as well. You all have my FULL permission to share it with all Blues music fans everywhere!!
If life (and politics - and the weather) are STILL gettin' ya down the Doc has a cure! Get out and LISTEN to some LIVE Blues music. It'll fix ya right up! Warm ya up too! Better then penicillin. There are a WHOLE bunch of opportunities below and in the attachment.
BLUES ALERTS:
Some major artists are touring in Wisconsin and some of surrounding states in the next few weeks including ANA POPOVIC, ALBERT CUMMINGS and SHEMEKIA COPELAND. From Wiscon-sin it's a bit of a drive but ELVIN BISHOP will do TWO shows at the Dakota Jazz Club in Minneap-olis. Check the attachment for where, when and sometimes even how much.
Do ya need a major Blues fix?? Like a festival or multi act event? Take a look thru "Who's ON..." for info on some of the BLUES FESTIVALS coming up this Summer in the area. I'll be adding more as time allows and information becomes available.
Should two weeks pass and you still haven't gotten your copy of "Who's On..." please check either the Great Northern Blues Soc. site or the Madison Blues Soc. web page. Both generally post the latest edition.
If you know any fellow Blues & Blues Rock fans that don't receive "Who's On First" let them know they can drop me a line requesting a copy. I'll be happy to add them to the list!
NEW BLUES GIGS & FESTIVALS?
I'm ALWAYS looking for any Blues gigs, festivals and related events that you know about that aren't shown in this or an earlier "Who's On...". If you have information about an upcoming gig or Blues happening - PLEASE - drop me a line with the who, where, when and other details and I'll consider adding it to the next edition! If you know of a CHANGE (date, location, artists appearing) in a listed event not shown in the latest edition that will STILL be relevant in the NEXT please let me know as well. This goes double for Blues/Blues Rock bands in or not shown in "Who's On..."!
BLUES NEWS:
2017 BLUES HALL OF FAME INDUCTEES ANNOUNCED: The Blues Foundation will be inducting MAVIS STAPLES, MAGIC SLIM, JOHNNY COPELAND, HENRY GRAY, LATIMORE and WILLIE JOHNSON into the Blues Hall of Fame along with one album, five singles, one book and one magazine founder at the 38th Annual Induction Ceremony at the Halloran Centre for the Performing Arts and Education in Memphis, TN on May 10th. The event kicks off at 5:30 with a reception and the ceremony follows at 6:30 PM. Tickets are on sale now for $100 per seat at blues.org or by calling the foundation at 901 527-2583.
The Blues Music Awards follow on May 11 starting with a pre-ceremony party at 5:30 PM. The Award show including a seated dinner and featuring performances by many of the nominees starts at 7 PM. Tickets and tables can be purchased now for $150 a seat at the above site or phone number.
BLUES ARTIST NEEDS HELP WITH MEDICAL BILLS: One of my favorite female Blues artists is LIZ MANDEVILLE! Liz was in a bad car accident last Thanksgiving on the Eden Expressway in Chicago. She's healing but hasn't been able to perform since the accident. It's hard to meet regular living expenses when you can't work much less pay off stiff medical bills.
A good friend of Liz's started a Go Fund Me campaign to help with medical and living expense bills after Liz's insurance ran out. So far $7,775 of the $10,000 goal has been raised. Thanks to all who've helped so far. To help with the remainder - go to http://www.gofundme/liz-mandeville-recovery-fund and give what you can. Liz appreciates anything you can do.
LIVING BLUES TOP 50 BLUES ALBUMS FOR 2016: I won't list ALL of them but the Top Ten from Living Blues Magazines list are Toronzo Cannon's THE CHICAGO WAY, Curtis Salgado's THE BEAUTIFUL LOWDOWN, Janiva Magness' LOVE WINS AGAIN, the Golden State Lone Star Blues Revue self titled release, Moreland & Arbuckle's PROMISED LAND OR BUST, Johnny Rawls TIGER IN A CAGE, Lil' Ed & the Blues Imperials THE BIG SOUND OF LIL' ED, Albert Castiglia's BIG DOG, the Tedeschi Trucks Band release LET ME GET BY and Big Jon Atkinson & Bob Corritore's HOUSE PARTY AT BIG JOHN'S. Liz Mandeville's latest THE STAR MOTEL also made the list!! You can see the entire list at www.livingblues.com OR in the February issue.
CENTENNIAL CELEBRATION FOR WISCONSIN'S PARAMOUNT RECORDS: Paramount Records was founded in 1917 as the record division of the Wisconsin Chair Company. Wisconsin Chair made phonograph cabinets first for Edison Records and decided to make its own line plus records to go with them in Grafton, Wisconsin.
An odd location for a record company - especially one doing a lot of Blues - Paramount recorded many early Blues artists including MA RAINEY, ALBERTA HUNTER, CHARLEY PATTON, IDA COX, BLIND LEMON JEFFERSON, JELLY ROLL MORTON, BLIND BLAKE and many more. Along with Okeh and what became Columbia records Paramount produced the bulk of early Blues recordings. July 2 of 2017 marks the 100th anniversary of the label.
BLUES HALL OF FAME: Remains open to the public down in Memphis, TN. Stop in when you're in the area. The Hall has extended its hours to SEVEN days a week from 10 AM to 5 PM Monday thru Saturday and 1 PM to 5 PM on Sunday. Costs are $10 for adults and $8 for students ages 13 to 18.
BLUES BABY BIRTHDAYS:
Musicians who perform or performed Blues, Gospel, R&B, Soul and other related musical forms born between March 12 and 25 that I have dates for include: Gaye Adegbalola, Marcia Ball, Son Bonds, Juke Boy Bonner, Butch Cage, BO CARTER, Leonard Chess, William Clarke, Nat King Cole, Ry Cooder, Paul Filipowicz, Jesse Fuller, Clarence "Frogman" Henry, Bertha "Chippie" Hill, Hollywood Fats, LIGHTNIN' HOPKINS, SON HOUSE, Gus Jenkins, Maggie Jones, Big Daddy Kinsey, Sam Lay, Bryan Lee, Lightnin' Slim, LOUISIANA RED, Stick McGhee, R. J. Mischo, Sam Myers, WILSON PICKET, Yank Rachell, Eddie Shaw, Otis "Smokey" Smothers, OTIS SPANN, Sly Stone, JIMMIE VAUGHAN, Boogie Bill Webb, Robert Pete Williams and Marva Wright. All those above entered the World within this TWO week period.
So LIFT up a glass of whatever cranks your engine and wish each and every one of the artists above a VERY, VERY HAPPY BIRTHDAY! Some may be gone but their music lives on. If you'd like to know more about any of the above Google their name - most will show up in Wikipedia, Allmusic, Reverbnation, their own site or somewhere else on the web.
You can also check many of them out in books such as Robert Santelli's excellent THE BIG BOOK OF BLUES - a biographical encyclopedia, Brian Robertson'sLITTLE BLUES BOOK illustrated by R. Crumb, BLUES FOR DUMMIES written by Lonnie Brooks, Cub Koda and Wayne Baker Brooks, THE BLUES - THE EXPERTS GUIDE TO THE BEST BLUES RECORDINGS edited by Michael Eriewine, Vladimir Bogdanov, Chris Woodstra and Cub Koda or a number of other works about Blues & related artists.
BLUES RADIO CHARTS:
The MOST recent Roots Music Report Top 50 Blues albums list dates from March 11 and has Elvin Bishop's ELVIN BISHOP'S BIG FUN TRIO still in the top spot, John Mayall's TALK ABOUT THAT remains at #2, Samantha Fish's CHILLS AND FEVER moved up from #7 to 3rd, Big Bill Morgan-field's BLOODSTAINS ON THE WALL is 4th and Southern Avenue's self titled release is at # 5.
The rest of this weeks Top Ten Blues albums are from Thornetta Davis, Mike Zito, Eliza Neals, Thorbjorn Risager & Black Tornado and the Fabulous Thunderbirds.
This weeks Top Five Blues songs per the same Roots Music Report are "Ace In The Hole" by Elvin Bishop, an Unknown number by Otis Taylor, "Off The Ground" from the Record Company, "The Devil Must Be Laughing" from John Mayall and "Just Your Fool" by the Rolling Stones.
Blues on the Wisconsin Roots Music chart STILL shows LIVE FROM TRANSYLVANIA from the Jimmy's at number two and remains the ONLY Blues song on the state chart.
The Living Blues Magazine Radio chart comes out every month covering plays from the PREVIOUS month. The March report reflecting February plays has Elvin Bishop's ELVIN BISHOP'S BIG FUN TRIO #1, Big Bill Morganfield's BLOODSTAINS ON THE WALL at#2, John Mayall's TALK ABOUT THAT third, Thornetta Davis's HONEST WOMAN in fourth and Ronnie Baker Brooks TIMES HAVE CHANGED at #5.
The next five albums for February are done by Beth Hart, Mississippi Heat, Sharon Lewis & Texas Fire, Lisa Biales and Delbert McClinton & Self-Made Men.
FESTIVALS:
Festival action is starting to heat up as the weather improves. We just enjoyed BLUES CAFE 2017 at the Rothschild Pavilion and a number of area Blues events have at least announced dates! Check out the bill for the BIG BULL FALLS BLUES FESTIVAL in the attachment plus what's known about PRAIRIE DOG FEST, FARGO BLUES FESTIVAL, BAYFRONT and a number of other returning events in the attach-ment. I'll be adding more festivals in coming editions.
WAUSAU AREA MUSIC:
A few Musical or Blues happenings coming up in the near future in or around Wausau or within a reasonable drive (about a 100 miles) that you might want to consider include Hip Pocket April 8 at the Grand Theater in Wausau, the Lil' Davy Max Band May 19 in Oshkosh, . Get details on these and more in the attachment.
EVENTS A BIT FURTHER AWAY:
Among BLUES or related music further afield that might capture you're interest are shows by Albert Cummings March 12 at SPACE in Evanston, IL and March 18 at the Wildey Theater in Edwardsville, IL, Experience Hendrix 2017 at the Riverside Theater in Milwaukee March 24 with Buddy Guy, Ana Popovic and tons more talent, Rockin' Johnny Burgin March 12 at Famous Dave's in Minneapolis, MN, the SubDudes again March 11 at the Dakota Jazz Club in Minneapolis, MN,
BLUES RADIO:
If you're looking for a Blues fix on the radio tune into "Blues Friday" starting at 6 PM until 12 AM on Rhinelander's WXPR 91.7 FM and 91.8 in Wausau. You can also pick it up on the World wide web as well NO matter where ya live!
Yours in the Blues;
Blues Doctor
The Great Northern Blues Society meets every second Tuesday of the month at 7 pm, (in the back room) at Loppnow's Bar, 1502 N. Third Street in Wausau.
All members are invited and encouraged to attend.
Email us for more information or with any questions.