SILVER DOME BALLROOM'S 2017 BLUES PARTY


SATURDAY, OCTOBER 21ST

DOORS at 5 pm / MUSIC at 7:30 pm / $20 ADMISSION

FRIDAY, OCTOBER 20TH

FREE PRE-PARTY with HOWARD "GUITAR" LUEDTKE

DOORS at 5 pm / MUSIC from 7 – 10 pm

The historic Silver Dome Ballroom is pleased to present its seventh annual Blues Party, so named in honor of the late, great Hubert Sumlin, the legendary Howlin' Wolf guitarist and Rock & Roll Hall of Famer, who was booked to play the inaugural Blues Party in 2011. Sadly, Hubert was hospitalized a couple of days before that show and never played again, passing away a few months later. Blues Party was the name of Hubert's first solo recording following Howlin' Wolf's death and we've kept the name to honor Hubert's memory. This year's party features the following outstanding artists:

FREE, FREE, FREE!

Also serving food and drinks • Free camping in the surrounding lot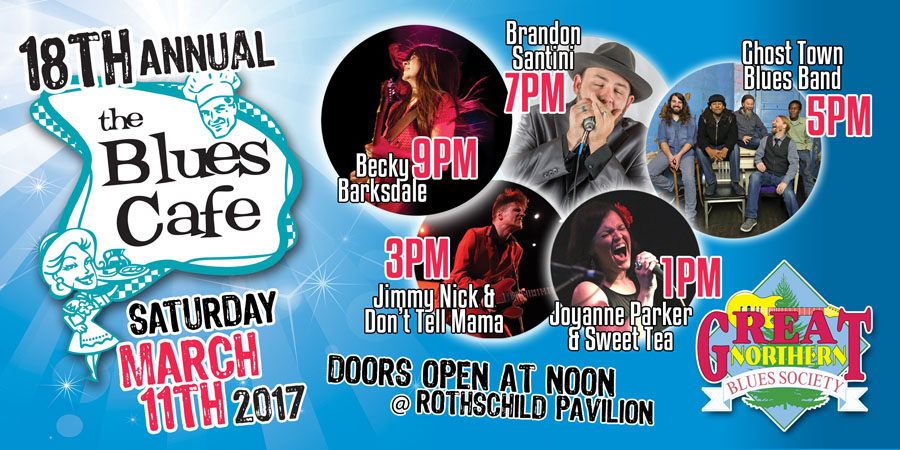 18th Annual Blues Café in the books
We want to thank everyone that attended this year's Blues Café. We feel it was a successful event, and that would not happen without your support -- it is appreciated.
Also, a huge thank you to almost 100 volunteers that help make the event so special. A special tip of the hat goes to Will Ostrem of Central Beer Distributors for his tireless efforts and long hours to make sure we are well hydrated. Without all of you, we'd be sunk.
We felt that all five bands were great, and if there are varying opinions out there we would sincerely appreciate feedback you want to offer. Favorite band? Any other acts that you'd like to see at future shows? Things that could be done better? We'd like to hear. Also, be sure to check out photos on our Facebook page.
Once again, thanks to all for attending, and mark your calendars now for next year's event on March 10, 2018.
A couple comments received via email:
What a WONDERFUL time this weekend - one of the best I have been at! J
Just wanted you to know that we had an absolute blast at the show. The Pavilion is a great venue and the performers were fantastic. Thanks for all you guys do.
The Great Northern Blues Society meets every second Tuesday of the month at 7 pm, (in the back room) at Loppnow's Bar, 1502 N. Third Street in Wausau.
All members are invited and encouraged to attend.
Email us for more information or with any questions.