CD Reviews
If you have a CD that you would like us to consider reviewing. Contact us
@ gnbs@gnbs.org
The Vincent Hayes Project
Reclamation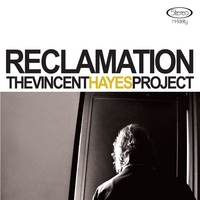 Hit Me High, Hit Me Low comes bellowing out of the gate and I am taken to Chicago in my mind. I am listening to this CD again as I write this and it is putting a big smile on my face, with a great mix of piano, strong guitar and clear vocals (Mr. Hayes). Insecurities is up next and it has that kind of Take Me to the River groove to it. Not vocally but musically I am reminded of the Commitments version of that classic. An epic slow Blues tune follows with I've Got A Right To Change My Mind. Clocking in at 9:44 it will have you disappointed when it does end. Everything is just in the right place and as it should be, I felt like I wanted to listen to it forever.
Middle Man has a kind of Robert Cray feel to it both vocally and in the guitar playing with a slight hint of a Reggae tone to some of it. My 23 year old daughter is digging it right now. Some nice organ playing by Christian VanAntwerpen and a scorching guitar solo take us home on this one. Guitar riffs and some pounding piano by Steve "Doc" Yankee kick off I Just Want To Get You High Tonight. This is an upbeat ass kicking Blues rocker about feelin' good. I think that I need a drink, Oh wait I already have one! I'm on my game today! Thank You Baby has a little Jimmy Vaughan sound to the vocals and everything else is as it should be.
Considering that this CD was recorded on the legendary Muscle Shoals Neve counsel at Glen Brown Productions in East Lansing Michigan, I was surprised by the Stax feel of Double Talk. Hey it's only recording equipment, right? If you thought that I've Got A Right To Change My Mind was an Epic like I did, wait until you hear Some Kind Of Fool clocking in at 10:01. Here are my audio notes from the first listen, "slow and soulful…breakup song…after a break up. This is a powerful song…monster guitar player…pretty intense. Listening to it again, I hear Gary Moore in the vocals and in the guitar playing.
Halfway Out The Door is an upbeat rocker with some great Blues guitar soloing. This song has great lyrics and a real modern feel to it. We have all been through this type of relationship stuff. It is getting harder to remember for me though, thank god. We find a jazzy guitar instrumental over the top of the organ on Sticky Thigh Jive. The organ does take its place front and center for a piece of this song. What a cool groovy piece of music, can you say Ronnie Earl? I'm thinking with the Broadcasters: Blues Guitar Virtuoso Live in Europe. Yeah, I'm right again!
This CD wraps up with You Can Take Your Troubles. Once again some great relationship lyrics, "You can take your trouble to somebody else's bed. Because you may be pretty baby but you're messed up in your head"(channeling Elmore James/George Thorogood). I'm in heaven, damn it's over but hey the Brewers are winning for the fourth day in a row. The musicianship is stellar throughout this CD and I would be remiss if I didn't mention the guys holding down the thump. David (The Butcher) Alves on bass and Donnie Hugley on percussion, these guys know where home is. The fact that I hear so many influences in Mr. Hayes work, tells me he is a student of the Blues. He makes this stuff all his own but it is nice to also hear some of your favorite artists in the influences. Hey if I am wrong then I am wrong but this is what I heard.
I've been at the CD review thing for about 15 months, I have listened to several hundred CDs and The Vincent Hayes Project is one of three 10 out of 10s that I have heard. That's pretty strong stuff for someone you have probably never heard of. You better trust me on this one and go get yourself a copy.
Ron Hoerter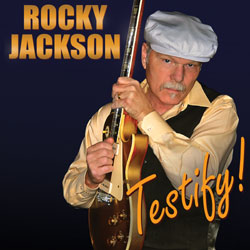 I'm not sure what caused me to write about this CD today. It just showed up yesterday and was lying in a pile of about a dozen other CDs that arrived last week. Not only that, but I have at least other 15 reviews roughed out on the mini-recorder that I use when I am on the road listening to new music. So for this CD to move to the front of the line is unusual, and I don't know why it did, but I am glad that it happened.
Kicking off this CD is Willie Dixon's I Just Want to Make Love to You. The song is soulful with a great slow groove and yet it still has that Chicago grit and stomp of Muddy Waters. The listener hears a more modern-sounding guitar solo mixed in on top of the rhythm guitar track on this version. Groovy, hip and a lot to like, is how I would describe the lesson taught on Big Legs Don't Mean Fat. Up third is Voodoo Spell and it has a little of that Born Under a Bad Sign/I Put a Spell On You feel to it.
The little different take on the Robert Johnson song Stop Breakin' Down fits well here. It reminds you of other versions but you are happy to be hearing this one. Like Magic is a slow, deep instrumental guitar/harmonica Blues song that really pulls you in. A fine piece of Texas swing is what you will find when you listen to I Wanna Testify (About My Baby). Next up is Early in the Morning. This song features Michael Fell on harmonica and some tasty guitar playing by Jackson for an updated feel on this take of a traditional song.
The rather lengthy guitar-driven introduction on Shoulda Never Left Texas had me thinking of Roy Buchanon. As the song proceeds and the vocals kick in, I was thinking about Rocky's fellow Texans, Billy Gibbons and a little bit of Bugs Henderson. Let me tell you, those are good thoughts to have. The acoustic track Chicken-Legged Woman, reminded me of Lonnie Mack's Oreo Cookie Blues as far as the guitar playing goes, and maybe even a little on the vocal/lyric side. Jackson follows up with a nice cover of Jimmy Reed's Don't Say Nothin' that has a fresh-sounding guitar solo on it.
The song In the Doghouse Now, has more of a rock feel to the guitar playing, which fits well with the lyrics and vocal feel. Not that this song sounds anything like them but in my head, I could hear AC/DC covering it. Long Distance Call, is a dirty intense slide workout, mixed with spot-on harp playing by Michael Fell that pays homage to Muddy's original. The upbeat slide fest of a road song L.A. to Austin is a great way to close out this fantastic CD.
I have heard Rocky Jackson on Mark Kerr's Blues Nation Podcast in the past, but actually getting to listen to a whole CD of his music, was a treat. Hats off to the rhythm section of Eliot Witherspoon (drums) and Joel T. Johnson (bass) -- they were solid throughout this outing. This CD would be a welcome addition to any Blues fan's music collection. I know it is in mine.
Ron Hoerter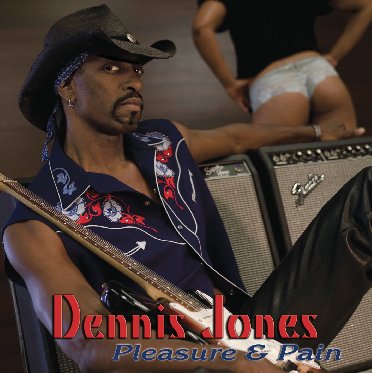 The first track on this CD is Brand New Day. On this song the horns jump out at you right away and the guitar is right in the mix. This is a song about getting out of a relationship that started at the too young age of twenty one. After listing all the woman's faults that he has become aware of over the years, Jones tells us to "pull up your pants and dance your Blues away." The horns here are handled by Jimmy Z on Baritone and Tenor sax. The trumpet and trombone were handled by Lee Thornburg.
By the time I got to Don't Worry About Me, I was wracking my brain trying to think who the vocals reminded me of. First I came up with Michael Hill of the Blues Mob. I knew that wasn't right and that it was so close to me that I couldn't figure it out. I was right, it was something that I heard so many times, that I couldn't get it to the top of my brain. A couple of songs later it hit me, Noah Hunt of the Kenny Wayne Shepherd band. Jones gives the guitar a work out here as he does throughout this CD.
After listening to I'm Good, I have a little advice for Dennis, be careful turning those women down, they can be a vindictive bunch. Kill The Pain is another bad relationship song about living with an alcoholic/drug addict. This song gave me a Pat Travers vibe. "I saw you chasing a beer with a tequila sunrise. Not a dime in your pocket, not an ounce of sense in your brain. All the things you do, you still can't kill the pain." This song features a fantastic guitar solo.
On Blue Over You, if you don't hear the similarity in Jones vocals to that of Noah Hunt on let's say Shepherds song Blue on Black, I can't help you. Things slow down here a bit, with guitar and vocals that just grab a hold of you and take you to that place we have all been, in a relationship. Things slow up even more on Sunday Morning Rain. This sounds like something I could have written fifteen years ago. Only you are still out there and know who you are.
Home Tonight features Jimmy Z on harp and sounds like a promise that wasn't kept. Once again this seems autobiographical to me. Did you ever meet that girl who was always around but you know she never told the truth? She never answered the phone when you called and forgot to tell you about her four kids. Well Mr. Jones has met her also and she never told him she knew me. He tells us about it on Try Not To Lie.
The Michael Hill's Blues Mob thought came back to me on I Want It Yesterday. With the war references and its overall style, I couldn't help but think about how much Jones has forced me to listen to his lyrics. This has always been a problem for me in my casual listening, I'm more of just a music guy and how it moves me. I am learning how to listen to music differently now because of the need to write about the words. So when I say Jones forced me, I mean his writing was so good that it made it easier for me.
Him Or Me says in the track notes says that it is self explanatory, so that is what we will go with. The guitar carries this track once again. This guy is a monster player. Blues purists beware of some of these tracks. It's too bad for you about that purist thing! Hot Sauce is a catchy romp about, you guessed it Hot Sauce! Jones does find some interesting uses for the sauce other than the norm. This is a great song that brings it all home. It has a little Zydeco meets the railroad flavor to it.
Pleasure & Pain is a big guitar CD. The bass and drum roles are filled admirably by Tony Ruiz and Michael Turner. The vocals are strong and the lyrics are mostly about relationship problems. Even though I am long past that stage in my life, I could relate and remember. That makes this a great CD from a new artist who is poised to be the next Blues/Rock Guitar Slinger.
Ron Hoerter
If you have a CD that you would like us to consider reviewing. Contact us
@ gnbs@gnbs.org