CD Reviews
If you have a CD that you would like us to consider reviewing. Contact us
@ gnbs@gnbs.org
2010 is here and I have a stack of CDs sitting on my desk to be reviewed. I didn't realize what an undertaking that I had opened myself up to when I first agreed to a request from Andrea Marr to review her CD Little Sister Got Soul for our newsletter. That was back in June and I thought I would put out some feelers to the artists and record labels about doing some reviews for our website. The response has been overwhelming. I enjoy getting a chance to listen to all this fine music but having time to write about all of it is a different story. I started off fairly strong and was rather productive. Then my personal life took a turn for the worse and the GNBS put on a new fall show called Blues Ala Carte. With all the hats that I wear for the GNBS and the things going on in my personal life, I had little time to write CD reviews. Well it is a new year and I am cleaning off my desk in a lot of ways. What is going to follow here is a bunch of short reviews. I am going to try and include most of the CDs that I thought were deserving of some print. Some of them deserve the full review treatment but time will not allow it. For that I apologize and want to thank everyone who sent their CDs to me for review consideration. Well let's get to it.
– Ron Hoerter –
Sean Chambers
Ten Till Midnight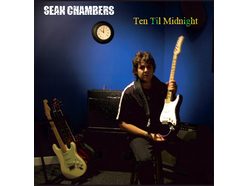 When I received this CD I was reminded that I had his first CD in my library and that I hadn't listened to it for years. I threw this one in the CD player while I was driving around for work and I was blown away. This is a guitar album but it is a Blues guitar album. I would not classify it as Blues/Rock. This thing has Johnny Winter influences all over it. When I finally read the Biography/Album information I saw that I was right about that influence. Sean has been influenced by all the masters, at a young age he started off playing Hendrix songs like Red House and Catfish Blues. This led him to all the Blues greats, Wolf, Muddy, Winter, Collins, SRV and all the Kings. Chambers furthered his education by becoming the musical director and guitarist for Hubert Sumlin, a spot he kept for almost five years. This is one of my very favorite CDs that I listened to in 2009. I'm sorry that time didn't permit for a full review. Outstanding cuts are the title track Ten Till Midnight, Blues and Rock N' Roll, You're Gonna Miss Me and Brown Sugar. If you like your Blues delivered in your face via the guitar, you have to pick up a copy of Ten Till Midnight.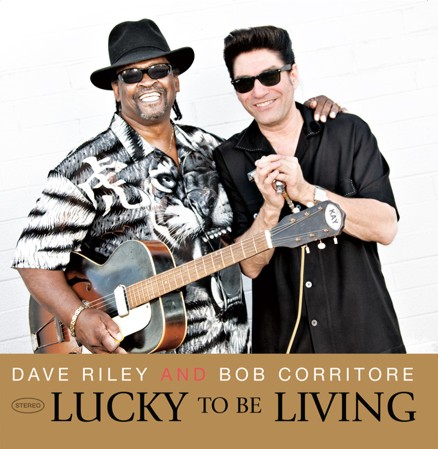 Dave Riley and Bob Corritore
Lucky To Be Living
Dave Riley's Mississippi roots mixed in with Bob Corritore's Chicago roots give you exactly what you would think. It's the Delta guitar and vocals meets the Chicago harp. Man, this is the Blues. These guys have been making quite a splash with this CD and the media attention they are getting is much deserved. I realize that I'm a little late to the party but it is what it is and that is just some great sounding Blues that will leave the purists drooling for more. Come to think of it, I'm drooling a little myself. Strong tracks are Jelly Roll King, On My Way, Back Down the Dirt Road, Let's Get Together, The Things You Do and Automobile. This is traditional Blues, sounding fresh and fun. Throw this CD in the player, sit back and groove with these two fine bluesmen.
Jeff Healey
Songs From The Road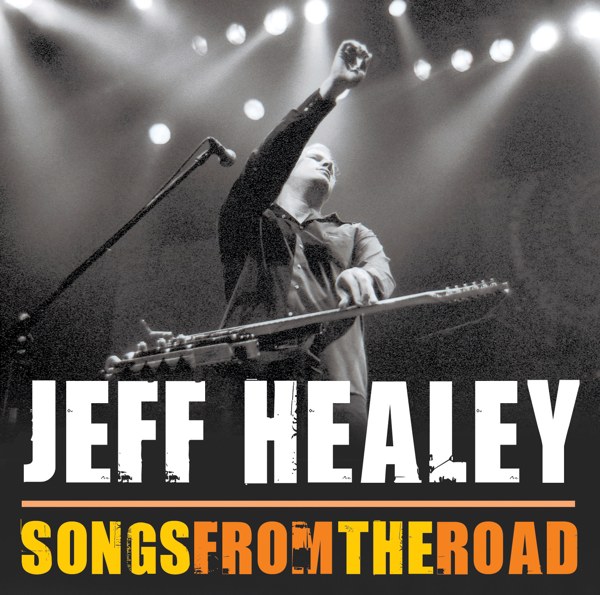 A couple of weeks ago, I read a posting on MySpace that simply stated I miss Jeff Healey. That was the exact same thought that I had when I first listened to this CD. This CD is compiled of live recordings from 2006 and 2007 over the course of three different shows. There is some fine playing on the classics but what jumped out to me was the passion that the cover songs were played with. These songs stood out to me as the best on the CD. Even though they were old Classic Rock songs, they became fresh with the treatment given to them by Healey and his band mates. These songs are as follows. Come Together, White Room, Whipping Post and Teach Your Children. Randy Bachman makes and appearance on Hoochie Coochie Man and the audience participation on While My Guitar Gently Weeps almost had me doing the weeping. I only saw Jeff Healey once and this CD brought back those warm comfortable memories, kind of like when you pull on your favorite pair of gloves when your hands are cold. His sense of humor was right up there with his playing. This CD is a must for Healey fans, kind of a book end if you will. A.W. you said it best that day on MySpace, I miss Jeff Healey too.
Billy Lavender
Memphis Livin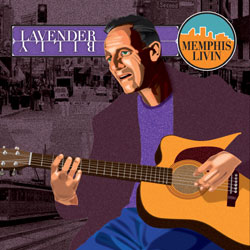 From the Blind Raccoon website: Memphis native Billy Lavender, in conjunction with I55 Productions LLC, assembles an all-star cast of Blues musicians to create "Memphis Livin", a unique homage to the talented artists straight off of Beale Street. Performing alongside Billy are musical legends Reba Russell, Blind Mississippi Morris, Brad Webb, Vince Johnson and Tony Adams to name just a few. That is what you get here. It is a real mixed bag of songs and sounds. Blues, Soul and R&B to Funk, with different vocals at every turn, along with stellar guitar work by Lavender and Webb throughout. If they made Gumbo in Memphis this would be it. My second listen was even better than the first. That is the sign of a quality product. Lyrically Bad Boy jumped out at me. Hmmn, I wonder why? Other standout songs are Singin The Blues, Let's Party, Just Chillin', Get Along, Shake It, Delta Time and 3AM. If you want a dose of Memphis Gumbo that has a fair amount of Blues added for flavor, then Billy Lavender's Memphis Livin is for you.
Jonny Lang
Live At The Ryman

This review is going to be short and not real sweet. If I don't have much good to say about a CD, I usually choose not to review it. With the stature of this artist, I felt that I needed to share my thoughts with the people. The CD starts off with One Person At A Time. The guitar comes out crunching and continues through out. The problem for me is the vocals, and song structure. I never picked up the 2006 release Turn Around because the review I read said that it was less Blues and going into a Gospel vein. I was already unimpressed with the 2003 release Long Time Coming because of the Pop, R&B, Soul and Gospel influences that were squeezing the Blues out of his music. Jonny is still a great guitarist and his voice is as soulful as ever. Vocally and musically the songs just seem to have gone in that, "I want to crossover direction". It pains me to say it but I kept thinking of Michael Jackson when I heard Jonny and his backing singers sing. All the girls screaming in the Ryman painted an even bigger crossover picture in my mind. I started out with Kid Jonny Lang and the Big Bang, so I was there in the early days and saw a few of Jonny's live shows. I was interested in hearing the new live CD to see how much of the change in his music had crept into his live show. I was disappointed to find out that a lot of it had. My son who is 20 years old grew up listening to Jonny, he had first crack at the CD and came to me saying the same thing that I was feeling. At this time I was only half way through listening to it. I gave the rest of it a fair shot and was looking for the final song Lie To Me to change my thinking. It didn't, it had lost some of the original zip. I am listening again as I write this and it is evident that Jonny's guitar playing and singing are as powerful as ever. It just isn't working for me anymore or for my son for that matter.
Davy Knowles & Back Door Slam
Coming Up For Air


Davy Knowles is a 22-year-old Blues/Rock guitar player hailing from the Isle of Man in the Irish Sea. Davy has teamed up with bassist Adam Jones and drummer Ross Doyle to form Back Door Slam. I first heard these guys on the Bob and Tom show. I was intrigued, especially when I found out that the CD was produced by Peter Frampton. I always record the Bob and Tom show on my DVR so I watched the performance with my 20 year old son. He was impressed also. The next stop was the Prairie Dog Blues Fest to see Davy and Back Door slam perform. I went with my 50 something year old friend Rick. We were both impressed by the live performance and kept making the comparison to Rory Gallagher. When I got home I requested a copy of the CD for review. It took a while to get here and then ended up on the back burner with the rest of the stuff. I finally looked at the press stuff today and Davy says that he is a big Rory Gallagher nut. I guess Rick and I had our comparisons right at that live show. I have since seen Davy on Bob and Tom for a second time now and I am definitely more impressed with the live stuff over this CD. That being said, this is still a great CD and I see a bright future for these guys. Davy is a phenomenal player and I look forward to what comes next for this talented group. My favorite songs on the CD are Coming Up for Air, Tear Down The Walls, Country Girl, Keep On Searching and Saving Myself. Pick up this CD to get a head start on the future of Blues/Rock from a talented artist. To watch a Davy Knowles & Back Door Slam video click here. Compliments of Full-Time Blues.
If you have a CD that you would like us to consider reviewing. Contact us @ gnbs@gnbs.org