CD Reviews
If you have a CD that you would like us to consider reviewing. Contact us
@ gnbs@gnbs.org
ERNIE & THE AUTOMATICS
Low Expectations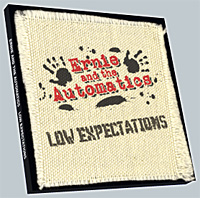 Ernie and the Automatics is a new project featuring Barry Goudreau the guitar player for the popular 70's and 80's band Boston. The first single off of the new release Low Expectations is Good Times Never Last. This song is reminiscent of 70's "guitar-n-synthesizer rock." The harmonized vocal does remind me a little of Boston and someone else. Who, I don't know – I'm getting old. It reminds me a little of that space ship taking off on the Boston album cover. Lyrically here in my opinion, there are definite references to the past riffs between Boston members and reference to the now deceased Brad Delp.
The title track, Low Expectations, starts off with some soulful, lonely-sounding sax wails. This song kind of musically fits the title, it is very low key. As it progresses you get the guitar and sax soloing intermittently off of each other. Each one is trying to sound lonelier than the other.
If I'da Let You is a sax and piano driven tune to start with. Then the horns kick in. The track features some nice horn work. It reminded me a little of the band Chicago from the Hot Streets era. There's no blues here.
Tappin' On An Empty Head is up next with bopping on the keyboard, cymbals, drums and sax until the guitar and vocals slam in. This is a very catchy tune.
Blues Town has some nice organ work. The guitar is definitely more rock than blues as are the vocals.
I'm Gonna Haunt You is a song that starts off with some pretty heavy guitar. This slow blues tune is defined by the vocals and the haunting saxophone. The heavy guitar fills are perfect. I like the subtlety of the piano outro. This track made me a believer that something is gonna haunt me. Maybe it's all the CDs stacking up to be reviewed.
Back Around starts off with harmonica and vocals recorded through one of those old harp mics. This is a slower traditional blues tune that is heavy on the old mouth organ as well as understated slide guitar work that I would have liked to hear a little more out front.
On the instrumental Hong Kong Shuffle, we hear some heavy classic rock sounding guitar.
Let It Go is sax and organ driven, with a monster guitar solo right in the middle followed by a sax solo. This song kind of swings and bounces along.
Listen close to the lyrics on Deadman, I can relate. This is a heavy rock tune. It's all hair band rock guitar here. The blend of this style of guitar with the sax is a little unusual but it works.
Best Is Up Ahead definitely has the blues lyrics to go with Barry Goudreau's blues rock guitar. The keyboards give it a 50's feel at some points and vocally it reminded me a little of Popa Chubby. This track has a nice conglomeration of sounds from different eras. It also features some nice sax toward the end.
The last track on the CD is Fly In The Milk. It starts off real jazzy with just bass, piano and cymbals. Eventually the guitar kicks in and you know this will be all instrumental jazz. It reminded me of my old Dr. Strut album and Sunday mornings of days gone by listening to WAPL.
There is enough blues here to be thrown in the ever-growing blues bag. I think a lot of us blues fans came at it from a classic rock background – I know I did. So if you're like me, you will find this mixture of styles to be a refreshing listen.
Ron Hoerter
If you have a CD that you would like us to consider reviewing. Contact us @ gnbs@gnbs.org