CD Reviews
If you have a CD that you would like us to consider reviewing. Contact us
@ gnbs@gnbs.org
Luther Allison - Songs from the Road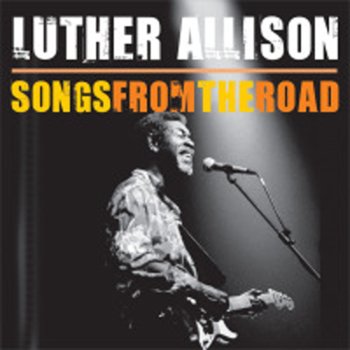 Luther is Luther. If you don't know that, I just told you. All his CDs are great but last night I watched the DVD companion to the CD from Songs From The Road. This was the second time I watched it and the third time I was blown away by Luther. The first time was a couple of years before Luther's passing. It was at Buddy Guy's Legends Club. I was there with my friends David and Connie. At that time we were all in our mid to early thirties. David and I were avid Blues fans and Connie was our friend so she tagged along to a couple of local festivals and this night was the same. I always told Connie, if you're not a fan of the music just appreciate the skill with which it is being played. Connie understood this and came along that night to watch Luther put on one of those four hour shows that he was known for. Luther never left the stage once during the show. He had multiple guests, sometimes he played with them and sometimes he didn't. When he wasn't playing he walked around and encouraged his guests to play even harder. It is a night that I will never forget and I don't think Connie will either because that is the night that she got it. She was a Blues fan from that point on. I don't see Connie or David anymore but I love and miss them both. I am sending Connie the Songs From The Road DVD this week. She doesn't know it and I just wish that I could be there to see the smile on her face when she realizes what I sent her.
Another example of the power of watching Luther live comes from Shirley, a friend that I spend time with daily. Shirley is approaching her seventies and I am teaching her about the Blues. She still has that image of slow depressing acoustic music in her head. I gave her my copy of Songs From The Road and told her to watch the DVD. Well she listened to the CD (she calls everything tapes) and told me that she liked it. When I found out that she listened to the CD and didn't watch the DVD, I gave her my little lecture on what a CD and DVD are and to stop calling them tapes. I can't help myself. I then asked Shirley to watch the DVD and boy what a difference that made. The next day she was raving about what a great performer Luther was and how handsome he was. Shirley is a hopeless romantic and as we talked, I gave her as much information as I could on Luther. We both agreed on what a waste of talent it was that Luther passed at such a young age. She had mentioned the intensity with which Luther played and how much he was sweating. This was something that she noticed with the Stevie Ray Vaughan DVD that she previously had watched. Shirley came to the Blues Café this year and was impressed by the likes of Lil' Ed, The Insomniacs and Shane Dwight.
Here is what I E-mailed to a New York musician, who sent me an MP3 of his new song and offered to send me a CD while I was watching the Luther DVD. "I can't listen right now but send away. I'm watching and preparing to review the Luther Allison DVD. He is mesmerizing, I'm so happy to have seen him live once. Thanks, Ron"
So you see when I say Luther is Luther, I mean that the CDs are all good but nothing compares to seeing him live. Luther made a thirty year old and an almost seventy year old into Blues fans. This is all because of his live presence mixed, with some incredible music. So you see there is no need for me to break this thing down song by song. It is all awesome but clocking in at just under sixty minutes, it leaves you wanting more. There is a bonus interview along with some great clips of Luther playing guitar with his tongue and with his son Bernard in the tribute section. But that is not enough. Please Mr. Ruf give us more video of this phenomenal talent.
Ron Hoerter
If you have a CD that you would like us to consider reviewing. Contact us @ gnbs@gnbs.org