CD Reviews
If you have a CD that you would like us to consider reviewing. Contact us
@ gnbs@gnbs.org
ANDREA MARR
Little Sister Got Soul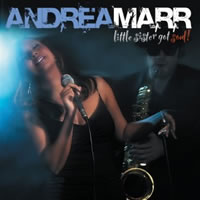 "Little Sister Got Soul!" is the latest release from Australian singer/songwriter Andrea Marr. The multiple award winner has made quite a name for herself down under and maybe this release will get her some more attention here in the U.S.
I had heard of her before but only from listening to the "Salty Dog Blues-n-Roots" podcast from Melbourne. Warning! This CD has horns all over it and I like that.
The song Soulville kicks off this CD, with the horns really giving it a funkin' up. Opening with the organ and some strong vocals over the top, it sounds like you are going to church. When the guitar and horns kick in, the gospel quickly turns to funk. Steam Up The Windows is next. Marr co-wrote this song with her guitar player Greg Dodd. This one is a little more guitar driven. The horns do show up but they are more in the fills and the background. There is also a very nice sax solo in the middle. The title says it all as far as it goes lyrically.
I Prefer You This song is once again funked up by the horns. This Etta James tune is a great choice for Andrea's sultry voice. There is nothing a man likes more than listening to a woman tell him what she wants to do to him. On Don't Touch What You Can't Afford , I like the male background vocals and the male voice over telling Marr that she smells like all kinds of trouble, is a nice touch. The back and forth between the horns and the guitar will keep your toe tapping. This song is a group effort as far as the writing goes and it feels like a group effort. There is a reoccurring theme here and that is Marr singing to men. She sings about what kind of man she wants and what kind of women she is.
Superwoman is no exception. The horns are a big presence again along with a ripping sax solo. If I Leave This World Tomorrow is the most traditional sounding Blues song on the CD. This song is done Chicago-style with the background vocals giving it a gospel flavor. Marr's vocals plead with the audience to remember her if she leaves this world tomorrow. She is very convincing vocally. I was sucked in and I'm no pushover.
What's Wrong With You is a real toe tapper. There is a nice mix with the horns and organ, jam some guitar in between and this thing really starts to rock. "Tell me baby what's wrong with you. You don't know a good thing when you see it." Written by Marr, she sings it with a zest that tells me that this song was autobiographical.
Baby Got Me Crazy closes out this CD. Marr finally slows things down on this one. It also has more of that Blues feel to it. The horns are much more understated than in most of the other songs. Marr gives us more of the sultry vocals that are half spoken and again very convincing. They almost go in to a kind of a purr or feminine growl if you will. The man theme stays the same here and that is a big part of the charm of this track.
All in all this is a very strong performance for Marr and the band, who for this CD where a perfect fit.
Ron Hoerter
If you have a CD that you would like us to consider reviewing. Contact us @ gnbs@gnbs.org