ALEX DIXON
Rising From the Bushes
With both an "intro" and "outro" bookending songs on this effort coming from Willie Dixon, one would think this collaboration is all about the song writing. You would be sort of right.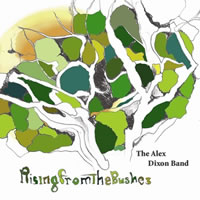 On this work from the Alex Dixon Band, you get a handful of musicians and singers who have more than honed their craft. Alex is carrying on his grandfather's legacy, of that there is no doubt. After the Intro by Willie, the CD starts off with the song Fantasy. Marcy Levy (aka Marcella Detroit) has the lead vocals on this song. Her voice sounds like a long-lost friend. The songs she was featured on with Eric Clapton were some of my favorite of his 70's songs. This song is a great vehicle for her voice. The background vocals fit like a glove. What a treat.
Next up is Lose Control. This song features the vocals of Alan Mirikitani (aka BB Chung King as in The Buddaheads). This song simmers along slowly building to a rolling boil, fueled by some great guitar work by Mirikitani. The lyrics fit perfect to the feel. "Hey baby my temperature's risin' ."
Down In the Bottom is the most traditional Chicago Blues sounding song on the CD. It should be as it is one of two songs written by the late Willie Dixon. The second one being Spoonful. This song features David Dills on vocals with a style slightly reminiscent of Warren Haynes. The rest of the song sounds like Cream's version, with a guitar solo being on top and very creative. Still In Love With You is a love song that has a familiar, oh I don't know, 70's R & B / soul sound to it. Continuing with that 70's vibe, Find A Way To Live, with vocals by Gerald Johnson, has a jazzy, soulful, gospel feel to it.
Alex Dixon steps out front a little more with some catchy piano work on My Suspicious Mind. I love the interplay between piano and guitar. Laid back vocals by Alan Mirikitani to go along with the laid back melody. Alex also stands out with lyrics on this one. He really caught my ear with the line "I don't try to be rude. I always make the waiter taste my food."
Paint You A Picture has Marcy Levy out front once again with great vocals over the top of some understated guitar. The song is a little reminiscent of the soul of Aretha Franklin in its style, along with the gospel sounding background vocals. There are also some nice little harp fills and some blowing as the song fades.
I listened to this CD several times and it grew on me every time. Several teen and twenty something's made mention when they overheard the CD while I was listening. The word they said over and over again was catchy.
That should tell you something.
Ron Hoerter
If you have a CD that you would like us to consider reviewing. Contact us @ gnbs@gnbs.org