CD Reviews
If you have a CD that you would like us to consider reviewing. Contact us
@ gnbs@gnbs.org
SHAWN KELLERMAN
Blues Without A Home

Blues Nazis beware . . . here comes another blues/rock/guitar CD (rock may be a little strong), but when I listen, I hear much more than that.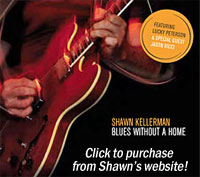 Canadian Shawn Kellerman's latest release has three originals and seven cover tunes. Lucky Peterson plays the B3 and Clavinet throughout, with Jason Ricci and his harp guesting on Burrito Brain a Kellerman original.
Burrito Brain is straight-up jazz all the way until we get the blues/rock guitar near the end. This is a very upbeat tune that has Lucky's keyboards all over it. Lucky's contribution to this tune is somewhat reminiscent of Billy Preston's playing style.
This CD starts off with the Robert Randolph instrumental Ted's Jam. Kellerman's slide sets a little different tone to the guitar from the pedal steel of the original. I found this refreshing, yet still staying true to the original. The second song, Good Times, takes Kellerman's vocals, which are a little off the beaten path and blends them with the backing vocals of Chelsea Oaks. This made for an interesting vocal tone to this upbeat little diddy. I found the song rather catchy.
Love Is Sweet is a slow blues burner that has Lucky's B3 work laying a solid backdrop for some stellar upfront guitar work. I am listening to this song again as I write this. The song moves me – it's just that simple. The lyrics in Give Me The Blues contradict the music. The lyrics sing about what he doesn't play and that he does play the blues. Here lies the contradiction, because the song is basically a funk tune. I guess it's "blues funk." Hey whatever works?
Love of Mine is a typical upbeat blues romp. The interplay between guitar and organ is great. Big Mama's Door clocks in at 10:22. I used this song to win an argument about how long someone kept me waiting while I listened to it in the car for the first time. This song has a heavy slide rhythm mixed with the high-pitch squealing that sounds almost like the pedal steel of Robert Randolph. Big Mama's Door is mostly instrumental and is definitely a toe tapper.
The only disappointment for me on the whole CD is Pretty Woman – a tired cover that could have been left off. To me it felt like filler, or maybe it's the fact I've been spoiled for life by the Gary Moore version. I have never heard a version that can hold a candle to it.
I really liked this CD and would recommend it to all . . . unless you are a Blues Nazi.
Ron Hoerter
If you have a CD that you would like us to consider reviewing. Contact us @ gnbs@gnbs.org