GNBS Membership Information
Please consider helping the Great Northern Blues Society by joining our ranks either with an individual Membership, or through a higher-level Corporate Sponsorship. We need your help to continue on our mission. All membership levels include the Good News Blues newsletter, published two or three times per year, and you will know in your heart that your money is going to support an outstanding cause within our community.
To become a member, please download and complete our Membership Application (Acrobat PDF), and mail to us.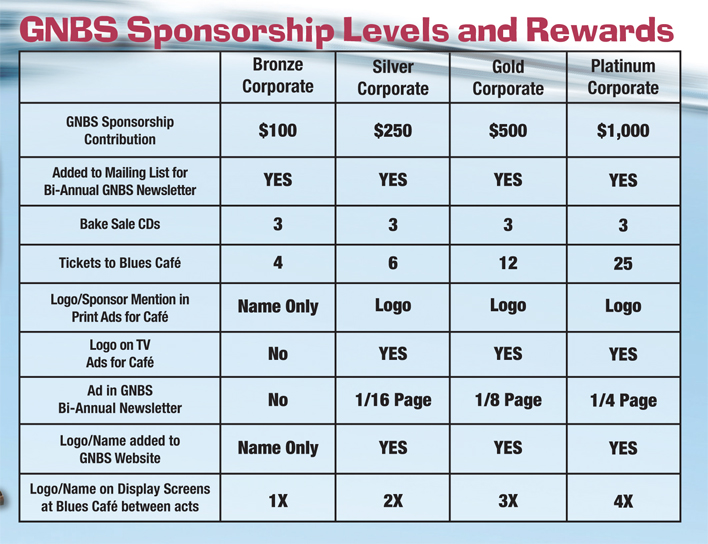 About the Great Northern Blues Society:
MISSION STATEMENT: Conserve, promote and present Blues music in all of its forms for audiences of all ages through community outreach. Serve as a support network for Blues musicians; encourage their artistic growth and help them thrive by providing opportunities to perform.
OFFICERS:
President - Mike Tatro
Vice President - Jeff Busha
Treasurer - Ron Pecha
Secretary - Rylan Hoerter

BOARD MEMBERS:
Mike Tatro
Jeff Busha
Ron Pecha
Rylan Hoerter
Josh Preiser
Deb Blegen
Greg Ashton
COMMITTEE HEADS:
Deb Blegen – Membership & Volunteer Coordinator
Open – Merchandise Coordinators
Jeff Busha – Newsletter Publisher & Website Guru
Ron Hoerter – CD Reviewer
Mike Tatro - Official Photographer
The Great Northern Blues Society meets every second Tuesday of the month at 7 p.m., (in the back room) at Loppnow's Bar, 1502 N. Third Street in Wausau.
All members are invited and encouraged to attend.
Email us for more information or with any questions.