CD Reviews
If you have a CD that you would like us to consider reviewing. Contact us
@ gnbs@gnbs.org

ALSO ON THIS PAGE
Meantooth Grin • Aaron Williams & the Hoodoo • Deepwater Reunion
Perry Weber and The Devilles
THE RIOT ACT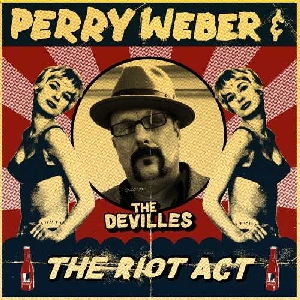 Let me just start this off by saying, Man I love this CD!! There now that we got that out of the way, let's start off with another Got. Got My Room is an instrumental that instantly put me in a Blue's mood and that is a good thing. The harp and piano stand out on this upbeat romp. Barrel House Chuck's piano really slugs it out with Benny Rickun's harp. Weber's guitar rounds out the sound nicely. I am seriously considering this song for inclusion on Bake Sale V. The only problem that I have with this song is that it is to short.
Benny Rickun's harmonica playing steals the show on Riot Act. Jimmy Voegeli's organ playing lays a strong foundation for this song with Weber's strong guitar playing stealing back the second half of the song. Hot Lil' Mama is dominated by the guitar and organ. Weber's voice is perfect for this song. This is the Blues as I knew it in my younger days running around to bars in this great state of Wisconsin.
Bernie's Bounce features strong harp playing to kick off this tune. The piano and harp duel with the guitar filling in the holes. Then the guitar and piano switch roles. Mean while the harp keeps rollin' and then solo's with the just the drum for accompaniment. We even get some hand claps in here. This is a really busy song that is another instrumental I am considering for Bake Sale V.
Musically, Cuttin In has a 50's sock hop slow dance feel to it and then it builds into more of a Blues song. Once again we have a song that is short and leaves us wanting more. Somebody should kick somebody's ass and drag this out a little longer. The next song up will be recognized as a Lonnie Brook's tune. Don't Take Advantage is little different take on the sound of Lonnie's original song. Although musically it is similar, it is a little slower and the organ playing seems different from my memory. The biggest difference is the vocals which sound like they were sung through a megaphone. It is different but it works.
On My Cake, Weber sings "I got a find me a woman with a big stack of credit cards." On this song Barrel House Chuck plays the Wurlitzer. That give this tune that late 60's early 70's Casio sounding vibe, very cool. Big Jim has a Jimmy Reed groove kind of feel to it. With the harmonica in the lead spot and Barrel House Chuck kicking in on the Farfisa, just try not to groove with some part of your body. I dare you. Then Weber kicks in and plays some Roy Buchanan sounding guitar toward the end of this cut.
We have another instrumental with more of Barrel House Chuck playing the Farfisa on Slam Hammer. This is another really busy song with what sounds to me like some harp over dubs. I hear layers of harp unless that is created by the keyboards. However it was done it sounds great as it goes along with more Roy Buchanan sounding guitar. This sounds like some really busy background music from the TV series Batman. You know like during the fight scenes. Bam! Kabbom! Pow!!
Pent Up is jazzy sounding with the organ taking center stage. The vocals are laid back and then we get the tasty guitar licks. On Ten Long Years, Barrel House chuck's piano is all Weber needs to accompany his vocals on this song about a past relationship and how he feels when he runs into his ex. "It's ten long years since I laid eyes on you." "Now I can handle my liquor but I just can't handle you." Been there and done that Miss T you know who you are. I would be remiss if I didn't mention the other fine musicians on this CD. On bass, a man who I swapped snoring tactics with in a Memphis motel room many years ago, Tony Menzer. On drums Victor Span and guest guitarist Jim McCarthy. These guys all made top notch contributions to this project. Did I mention...Man I love this CD!!
Ron Hoerter
MEANTOOTH GRIN
BEFORE THE DEVIL KNOWS YOUR DEAD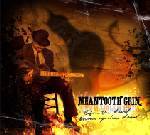 "Caution . . . this CD will cause civil disobedience. It kicked my ass and stomped on my head while I was down. This is industrial strength Blues that conjured up images of the late John Campbell." Yah I said that. It came to me while I was working and giving the CD its first listen. I hit the retrieve button later. Can you say multi-task. Here we go!
Intro was written and spoken by Doug Kroening. Let me tell you the guitar and harp playing with the spoken words set the dark tone for this CD. They also slide (pun intended) right into Drive. Tom Jordan's slide guitar slams me in the face and makes my foot start to twitch. Don't forget I am lying on the ground. This tune is full of Jordan's slide wah wah guitar and growling vocals. If I failed to mention the killer harp (harmonica) filling up the holes by Cole Holiday, it would be a sin.
On Killing Time, Jordan sings "I've been drinkin', been drinking all night long. I've been drinkin', been drinking all night long. I've been drinkin' woman, wondering how you done me wrong." Between the harp and the slide guitar my head is full. Dare I think about filling my empty glass and miss something. Ah it is over. Time for a refill while I listen to the much slower and more relaxed Dark Was The Night. This features Pete Shank on Hammond organ and Marty Cheyka on second guitar. This one will put you in a sweet and mellow mood. Jordan puts the slide down here and shows he has the tools for playing it straight. Be careful, that's why they call it the Blues.
Telephone Blues reminds me of some past relationships. Drunk dialing and arguing over stupid things in the middle of the night. This is a heavy rocked up slide fest in your left ear with the Holiday's harp in your right. Play it loud.
Acoustic guitar and the sound of a hole being dug with a shovel is what you fall into on Before The Devil Knows Your Dead . The shovel keeps the time in this song. This is different and creative. Is that rotten granite? "The Devil's waiting boy and there are fires to be fed. Ain't no foolin' him from your death bed. Hope you get to heaven before the Devil knows your dead." Jordan sings about his life experience and the plagues of the day, cancer from smoking cigarettes, domestic abuse and HIV.
Tommy Gun is the song that originally surfaced on the Bake Sale IV CD that I produced for the Great Northern Blues Society in 2007. This is the song that brings the ZZ Top comparisons. The Bake Sale IV version didn't have the harp on it, which is a nice addition here. Just some nasty mean ass slide guitar work matched against the harp. You have to hear this song. My son came downstairs from listening to the CD, I said pretty good huh and Tommy Gun lives on. Rylan said that's my favorite song on the CD, like he forgot about the original version on Bake Sale IV, which he had helped me with. He had. The new version rocks even more.
The only time I like the old scratchy record effect and old mic sound is if it used as an intro to something that just comes out swingin' and rips your head off. On Evil Woman, this effect plays through the whole song giving it an old recording effect. Hey what can I say, I'm just not a fan of that sound. Others may be.
Necessary Evil lets the bass do a little walking and Shank gives the Hammond a workout. His playing brought to mind John Lord of Deep Purple fame. This song really has a more modern feel and pulls away from the Blues. The rock really surfaces here. Very nice! Tom Jordan lists a Wisconsin favorite, Howard "Guitar" Luedtke as a mentor. That influence really comes out in Jordan's acoustic slide guitar and his vocals on Homeless And Homesick.
I must admit I never give drummers (Brian Miller) and bass players (Seth Heffner) enough credit. These boys are so right there when they are supposed to be, almost so that you don't notice them. They are doing everything right and not drawing much attention to themselves. If they didn't do that, it would be a whole different recording. Cole Holiday (Harp), who is not a band member, really adds a lot of flavor to the overall sound of this CD.
Things slow down on Insomnia, for those who like their acoustic guitar solo. Tom plays a Resonator and really shows that he has the chops to do it either way. The Outro has some nice acoustic guitar picking, rocking chair and swamp sounds. Then the sounds of frogs and crickets forever, do yourself a favor and hit replay. If the Devil had a back yard, Meantooth Grin would be playing in his sandbox. Go get your pail and shovel!
Ron Hoerter
AARON WILLIAMS & THE HOODO
IT AIN'T EASY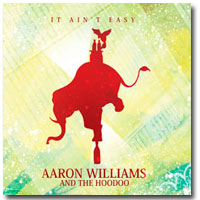 Folks, pardon all the guitar references in this review. What do you want? It's a guitar-driven experience and it's time to dive in. The first track Hypnotize blasts out of the speakers at me and I know I am going for a ride. I was hypnotized, by the revved up buzz saw guitar playing of Williams. Wow what a rocker I had to catch my breath after that kickoff. Seven Days is a little more traditional blues sounding in the guitar department. Williams' late father Cadillac Joe Anderson makes an appearance here on the Hammond B3 and does a nice job filling in the holes.
It Ain't Easy is a song in the Classic Rock vein with some additional vocals by Carolynn Black and Wes Johnson. It Ain't Easy ain't Blues but it is an awesome tune. It's Sunday morning as I finish writing this and this song just shook the cobwebs out of my head. After hearing these first three songs, I said to myself, these guys deserve a major label deal.
Williams puts on the brakes with Livin' On Love. This is a strong heartfelt ballad that has Williams singing "livin' on love and livin' on you." Be careful with that Aaron. I just got a Big Head Todd vibe. That's why I listen again while I finish piecing these things together. Last minute inspiration, there is nothing better.
Things pick up here again with Wrong Me. We find Williams scolding his girl for lying to him about what she was doing while she was out. This is and up-tempo Blues/Rocker that has some outstanding guitar playing on it. We also find more B3 work by Cadillac Joe. Between the organ and the guitar on this song there wasn't much room for anything else.
Drinking Blues finds Williams singing "I've been drinking the Blues." Yeah you and I both Aaron. This is another upbeat Blues/Rocker. The guitar playing brought Howard "Guitar" Luedtke to mind. That's two reviews in a row. Howard we need some new stuff! You have to love this lyric. As the song closes out William's says, "That's alright, I got my guitar and your sister."
On Porterhouse 650 we find Williams playing some funky wah wah guitar with some story telling by the band members underneath. The lyrics liken a girl to a piece of fine steak. Hey who am I to judge. Waitress, can I get some steak sauce over here. Hotel Or Motel is a rocked up song about being on the road and driving all night to the next gig. So make up your mind baby, hotel or motel.
The Rhythm section of Eric Shackelford (Drums) and Z (Bass) hold down the bottom very well throughout this CD. On Decide, Decide Z takes over the vocal duties. Once again we find some funky guitar work. This is a very strong song that is full of guitar. When William's solos over the funky guitar rhythm, I am enveloped in sound. This CD closes out with Lil' Old Lady and is a very heavy Classic Rock guitar driven tune. I could here the cheers in my head. It reminded me of Blue Oyster Cult rockin' out live on the Some Enchanted Evening album.
Aaron and the band put on an outstanding show at our 2009 Blues Café. My crystal ball sees a bright future for these guys, so go pick up this CD and check out Aaron Williams and The Hoodoo live.
Ron Hoerter
DEEP WATER REUNION
NONAME, SMALL TOWN BLUES
Jerry Henry's guitar starts this thing off on Noname, Small Town Blues. I will say this now to get it out of the way; Jerry "Fever" Henry's guitar playing is phenomenal throughout this recording. Larry "Third Degree" Byrne's keyboards lay the background to this mid tempo song about what it is like living in the small towns of Wisconsin with all the businesses and mills closing down. Hey it's about trying to pay the bills, we can all relate.
Play My Blues For You is a song that has a little of everything working for it. It is nice to hear a studio recording from these guys. Some of the stuff gets lost on their live recordings. The horns of Sue Orfield and Bob Corbit have their place and fit in nicely with the guitar and organ. We even get a sax solo. This is just a really nice Blues tune where everything works.
There is a theme on Closin Time that is all too familiar to many of us. It's a little different take than I always had. I usually figure out the next day that I had beer goggles and she must have looked better at closing time. Here, David "Big Pipes" G tells us that he knows early on who he is going home with. He describes her as having a big toothless grin when she walks into the bar. He then goes on to describe her smell as, that of an old dog, she dances like a frog and her figure is kind of bovine. David sings that if he drinks a lot of beer and whiskey he hopes she will look better at closin' time. That's not the way I did things but it is honest and that is the Blues. Don't get me wrong. I'm not saying that this song is autobiographical but on that note, let's talks about the vocals. "Pipes" vocals are true to form throughout this CD. The studio recording really does them justice.
Larry "Third Degree" Byrne's organ playing on How You Sleepin Baby, owns the song. This song also features some tasty sax work along with background vocals, which I would like to hear more of in the future. I Came Here to Play is a song I suggested early on, that the band use for their lead off track on this CD. (I was privy to these songs early on.) I thought it lyrically made a statement for the whole project and gave all the musicians a chance to strut their stuff. Ah, what do I know? Either way where ever it showed up it was going to be a great song and it is. Oh yeah Jerry, play it out!
Blind Dog Bite is an old Boilerhouse Blues Band song that people may be familiar with and in the words of David "Big Pipes" G (Former Boilerhouse frontman), "We even managed to put some new life into the old song Bind Dog Bite." So Big to Me Now starts off as a great vehicle for Jerry Henry's guitar playing but once again it is a band effort. The horns and organ playing really drive this thing in between the guitar and vocals. By the way the lyrics are interesting. Once again I have never come at it from that angle. Just more of livin' the Blues. You do the homework. I'm not going to tell all. You will be tapping your toe on the upbeat romp, Share the Love.
Oh Lord gives us some piano playing. It sounds great. As much as I like the organ playing, I would like to see more piano mixed in on their future efforts. It just adds a certain flavor that I can't describe. Maybe I can (Old School).
On an informational level let me fill you in on a few details. Deep Water Reunion is featured in the upcoming independent movie release titled NONAMES. They perform two songs in the movie. One of them being Share The Love from this CD. Here's David explaining how things worked with the two Sax players. "The sax things are that Sue Orfield takes the first time through and Bob Corbit takes the last. They are 2 of the hottest sax people and they play so much alike. Bob doesn't play on "How you Sleepin Baby". Sue is on the Tenor and Bob is on the Alto although they can make their instruments sound like the other. It is truly unreal." Let's not forget what holds this all together, the bottom is held down by Tommy Skin Tite Swearingen (Drums) and Rick Clark (Bass). Tommy is responsible for assembling this group of veteran musicians. David says "As far as how folks can get a copy of the CD, they can just email us at dwreunion@gmail.com and can get one ordered there. It should be on CD Baby and Amazon soon."
Here's a quote from Bob Decker the President of the Great Northern Blues Society: "I'm listening to their new release "NoName, Small Town Blues" - no I didn't misspell it - that's the way the title appears on the liner note cover. Haven't finished it yet but the first few cuts SMOKE! Pipe's vocals are strong. Super guitar work from Jerry Henry, sax from Bob Corbit and Larry Byrne's organ keyboard. Pick one up if you have a chance. I think you'll like it." These guys have never sounded better whether live or on CD. They are to be commended for this great effort. Do your self a favor, listen to Bob and pick up a copy.
Ron Hoerter
If you have a CD that you would like us to consider reviewing. Contact us @ gnbs@gnbs.org