CD Reviews
If you have a CD that you would like us to consider reviewing. Contact us
@ gnbs@gnbs.org
Some recent blues recordings . . .
THE ESSENTIAL COCO MONTOYA: by Coco Montoya
Blind Pig Records recently released The Essential Coco Montoya featuring 12 songs from the three albums Coco did for the label in the 90's. The album doesn't truly stand as an overview or "Essential" compilation of Montoya's work to date since nothing from his recent three Alligator Records works is included.
There are no "live" or unreleased titles making up this work. Of the 12, five come from Just Let Go released in 1997, four from 95's Gotta Mind To Travel and the three remaining are off of 1996's Ya Think I'd Know Better.
Songs left OUT by the compiler - Coco himself - are a bit surprising. From Gotta Mind To Travel neither the title song written by Albert Collins or "Nothin' In The Streets" by Taylor made the cut; both of which this reviewer thought were among the strongest from that album.
On Ya Think I'd No Better Blind Pig & Montoya did better on their picks in my view by included the title cut and "Monkey See, Monkey Do" penned by David McKnight but left out two other rockin' songs - "Tumbleweed"; another written by McKnight and David Steen's "The Heart Of Soul".
Finally when Coco got to Just Let Go he and I came closer in our favorites. He included "Give It To A Good Man" - another by David Steen, the title cut by himself and Albert Collin's "Do What You Want To Do" - choices many fan's including myself would include. "Fear No Evil" and "Sending Me Angles" also made Coco's cut but I'd have put "Never Seen You Cry This Way Before" by Castagno in the mix.
Those of you that have some or all of Montoya's Blind Pig recordings could pass on this one. If your collection has no Montoya or is limited to his recent titles you might want to consider this album as representative of his output from the earlier 90's. If you're a real Montoya fan all three albums are still available from Blind Pig which give you 34 cuts instead of only 12 from this overview.
Bob Decker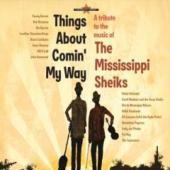 THINGS ABOUT COMING MY WAY: by various artists
Do you like string band music? If so you should give a listen to Things About Comin' My Way: A Tribute to the Music of the Mississippi Sheiks recently released on the Black Hen Music label.
During their heyday in the thirties the Mississippi Sheiks penned some remarkable songs; being best known for the classic " Sitting On Top Of The World" included here performed by the Carolina Chocolate Drops. The album is composed of 16 additional songs covered by everyone from the North Mississippi Allstars on "It's Backfirin' Now" to progressive Bluegrass artists Danny Barnes of Bad Livers fame doing "Too Long".
Among the other tunes included I quite enjoyed Madeleine Peyroux's take on "Please Baby" - a tasty slow sexy romp. Oh Susanna's cover of the Sheiks "Bootlegger's Blues" also captured my interest as did Ndidi Onukwulu's version of the title track.
Other artists involved in the project were John Hammond who contributed a great version of "Stop and Listen" while the Sojourners covered "He Calls That Religion", Del Ray did "We Both Are Feeling Good Right Now" and you'll hear Geoff Muldaur and the Texas Sheiks do "The World Is Going Wrong". Bruce Cockburn, Jim Byrnes, Bill Frisell, Kelly Joe Phelps, Steve Dawson, Bob Brozman and Robin Holcomb contributed versions of Sheik numbers as well.
The combined efforts of the artists and Black Hen could just rekindle interest in acoustic string band music. This is certainly a great start and as a fan I wish them success.
Bob Decker

WATERMELON SLIM:
Slim recently released Escape From The Chicken Coop on the Northern Blues label. This is a solo effort by Slim and not what fans might expect. Seems like Slim has been wanting to do a Country Album and this is it! If you're mostly a Blues fan this may not be something you want to add to your collection since there's only one Blues song in the 13 that make up this release. That offering is "Caterpillar Whine"; an enjoyable truck drivin' Blues. "Wreck on the Highway" is a taste - an enjoyable one at that - of Gospel that should please the ear of many a Blues fan. Another tune - "18,18 Wheeler" - will probably appeal to Blues fans (it did to this one) with its fast country blues feel. The rest is mostly PURE country. If you enjoy Slim's singing, playing and writing this may still be something that interests you. If Country music adds spice to your sandwich, especially a more traditional approach to that genre, give it a listen or pick up a copy.
Bob Decker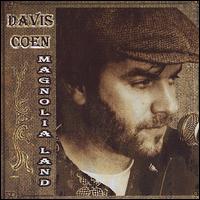 DAVIS COEN:
Magnolia Land is the title of young master Coen's latest effort on the Soundview label. The songs are slower paced for the most part and full of emotion and power. "Tired and Lonesome" grabbed me from the get-go and built up anticipation for the rest of the album. "Country Girl Blues" picked up the pace and beat and did not disappoint. This listener also enjoyed "Goin' Away Baby" and " Natchez Burning". I recommend you give this one a hearing and think it just might make my "Best Blues of 2009" list!
Bob Decker
If you have a CD that you would like us to consider reviewing. Contact us @ gnbs@gnbs.org