CD Reviews
If you have a CD that you would like us to consider reviewing. Contact us
@ gnbs@gnbs.org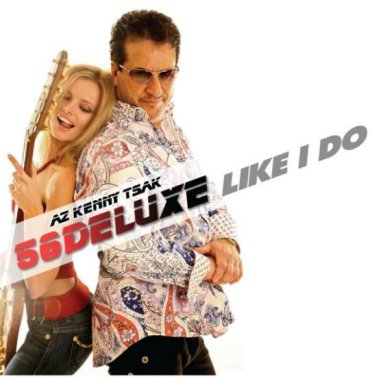 Like I Do is the debut CD for AZ Kenny Tsak and 56 Deluxe. The band was formed in 2005 when Tsak (vocals and guitar) reunited with friend and former bass player Avery T, Horton Jr. The CD has two cover songs and nine originals performed by Tsak, Horton and 56 Deluxe.

The title track Like I Do leads off here and the guys come out swinging. The song is guitar-driven with some swingin' sax work by Frank Perez. Full Time Lover is a slow Blues song with piano up front, until we get to the slow and tasty guitar solo. Then it reverts back to piano being out front again. I'm listening again as I write this and I just keep coming up with the word "Nice."

Walkin' Shoes is a party. It jumps along with the piano and the sax leading the charge. I am waiting for the guitar, ah here it comes! The piano takes this one most of the way home with the guitar and sax jumping in and out at points.

On the song Blues Attitude, the guitar playing matches the title. It is deep, dark and dripping with attitude. Lyrically the song talks about life and how tough it is. He sings "I got nothin' to lose but this Blues attitude."

Once again I find myself tuned in to the lyrics on 12 Step Boogie. The words to this song caught my attention right away. "She threw out all my whiskey." That is alcohol abuse where I come from in Wisconsin. Then the pain continues lyrically with "Now that we got sober all the fun is over" and "There's 12 steps before I'm done and none of them are very fun." This song is a nice little romp about the pains of being sober and in a relationship. While this song brought back not-so-fond memories of a long-ago relationship, I also found it to be hilarious.

The Chick Willis-penned tune Stoop Down Baby is a duet with Joey Gilmore who was the 2006 International Blues Challenge Band winner. This is a nice vocal duet with tongue in cheek lyrics. "Yea, stoop down baby, let your daddy see."

Down South Florida features some nice guitar playing by Tsak and the sax work by Frank Perez is like the icing on a cake . . . finger licking good! Just like the girls down in south Florida who look so right. The next song is probably the heaviest version of the Willie Dixon's I Just Wanna Make Love To You that I have ever heard. On My Tastee Cake, James Holt provides some nice keyboard work, ala Billy Preston's Space Race. His playing races along underneath Tsak's vocals and guitar until we get to the solo, which could have been longer for my taste.

I'll Take You With Me, which closes out this CD comes out of the gate with some ripping guitar. Wow, that's a lot of notes. This is a very catchy tune with the piano filling in the holes. There is also a little bonus jam at the end of this song.

I found this debut album by AZ Kenny Tsak and 56 Deluxe to be about as entertaining as the 56 Deluxe Girls and trust me -- they are very entertaining. I dare you to look.
Ron Hoerter
THE INSOMNIACS
AT LEAST I'M NOT WITH YOU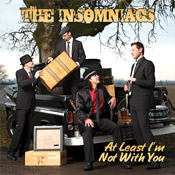 The Insomniacs' follow up their 2007 critically acclaimed debut Left Coast Blues with At Least I'm Not With You. Lonesome kicks off this party with some strong guitar work draped over an organ backdrop, topped with some nice harp work by special guest Al Blake. Vyasa Dodson (guitar, vocals and song writer) sings "I'm lonesome and dangerous", let me tell you dangerous they are.
Broke And Lonely is lyrically a sign of the times, even though it was released in 1963 by Johnny "Guitar" Watson with additional writing credit to Johnny Otis. "I done lost all my money, now I'm about to lose my mind." This song is kind of a Playa's lament if you will. "All the women used to holla, here comes that good sweet lovin' man. But now when they see me, they don't even raise a hand." I love the piano work and the pedal steel guitar by Joel Paterson is a nice touch toward the end.
Slow, swinging with horns and great guitar work would describe Directly From My Heart To You. This song definitely has that 50's feel to it. There is no piano here, but I could hear Fats Domino singing this song. When I went to look at the song writing credits it was credited Richard W. Penniman (aka Little Richard). So there you go, close enough for my ears.
Maybe Sometime Later is peppered with some surf-sounding guitar. Lyrically, it sounds like a young man daydreaming about what he would like to say to a girl. He would really have to be drunk or just plain full of it to say what he is thinking and she would have to be drunk to buy into a line like that. Alex Shakeri's B-3 foundation builds as this song progresses. That wall of sound owns this song.
The original song At Least I'm Not With You, penned by Vyasa Dodson, starts off with lyrics like "Well I'm lonely but not sad and I'm actually kind of glad that you're not here right now" and "Cause I might be alone, but at least I'm not with you." After hearing that, one can't help but immediately fall in love with this swinging little kiss-off diddy. Dodson is correct -- it is all right to be alone. I kind of feel a kinship to this man, I learned this the hard way over a long haul also.
Root Beer Float is a jumping little instrumental that will make your toe tap. The Amos Blakemore cover of Hoodoo Man Blues features some intense harp work by Mitch Kashmar. She Can Talk is an upbeat piano-driven song that lyrically reminds me of my daughter, who I suppose in all fairness got it from me. This tune has a little surf guitar drum thing going on in the middle of it.
We have a little theme going here with Angry Surfer. The title calls it and you do get a larger dose of surf guitar and drums here. There is also some nice piano work on this song. On Description Blues, Dodson sings "I was in love with a married woman because I just couldn't help myself." Hold it! Once again I'm tuned into the words. This is not an original song but John Willie Henry's lyrics thematically fit this CD and it was a nice choice for a slower tune with Shakeri's Hammond B-3 taking center stage.
We are reminded that hindsight is 20/20 on 20/20, at least for those of us that live in the adult real world. What would life be if we didn't have to learn our lessons the hard way? Heaven? Boogie woogie piano and hand claps lead to Jeff Turnmes' contribution of tenor sax on Insomniacs Boogie. He contributes to four of the songs on this CD. Next in is the guitar of Vyasa Dodson. His guitar playing is impressive throughout this project. The rhythm section of Dean Mueller on bass and Dave Melyan on drums are solid throughout and boogie it does, just as advertised.
This is just a great CD. I only recently became familiar with this band and I'm sure I'll be a fan for years to come.
Ron Hoerter
If you have a CD that you would like us to consider reviewing. Contact us @ gnbs@gnbs.org