CD Reviews
If you have a CD that you would like us to consider reviewing. Contact us
@ gnbs@gnbs.org
- REVIEWS ON THIS PAGE -
Ana Popovic, Blind for Love • Roy Rogers, Split Decision
Shane Dwight, Plays the Blues & Gimme Back My Money

ANA POPOVIC
BLIND FOR LOVE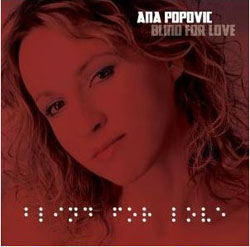 Ana Popovic has muddied the proverbial Blues' waters with her latest CD "Blind For Love". It kicks off with Nothing Personal and has Ana's vocals come busting out right in your face. As far as the lyrics go, trust me Ana, no one will mind that you care. Who wouldn't want to be the object of Ana's affection? The guitar playing is strong and the horns make for an upbeat piece of soul music. This is the song that I have heard getting the most airplay and it is very deserving.
On the strong rocker Wrong Woman you hear Ana scolding a two timing man who has hit on her. "What makes you think you are too good for one woman and good enough for two? You're messing with the wrong, wrong woman." She has me convinced. This song features rockin' guitar work with some strong organ playing filling out the back drop.
Steal Me Away is one of the more traditional Blues sounding songs on this CD. I see nothing to confirm it but to my ear it sounds like she is playing some butter knife slide on this track. Here we get very mellow on Blind for Love. I get a 70's vibe and am reminded of Phoebe Snow, Roberta Flack and Maria Muldour's Midnight at the Oasis. More Real stays true to this vibe.
On the song Putting Out The APB Ana is looking for humanity, she questions our ability to love one another. I must say that I agree. Ana plays some mean slide here and with the hand claps we get a little Gospel flavor that reminds me of Robert Randolph and the Family Band.
Get Back Home To You doesn't list horns in the credits but they are here with the guitar over the organ. This is a very upbeat moving song. Soulful with some jazzy guitar picking describes The Only Reason. Part of Me (Lullaby For Luuk) is lyrically what you think of, with a mother talking to her infant. This is very uplifting to listen to as I think back to when my children were infants.
We get some funky guitar on Lives That Don't Exist. I think this is Ana's take on her fame and looking at how other more famous celebrity's portray a life that really isn't all it appears to be. There is a lot to be sacrificed for those full color front page photos which Ana has done some of and will be doing many more. The price of having everyone staring at you may be high and she knows it.
Ana has written or has a hand in writing all the songs on this CD except Need Your Love which is written by Dion Murdock. This is a pretty heavy rocker with some slide and wah wah pedal work by Ana. Blues for M closes out this CD. It is a beautiful and soulful love song that Ana has written to her man Mark Van Meurs. She thanks him and praises him for all he does for her and that he helps to keep her grounded so that they are just who they were back then.
There's not a lot of straight ahead Blues here, it is a pretty mixed bag. This is the appeal of Ana, she can dabble in these other genres of music and still appease her Blues fans, while possibly finding new audiences by getting airplay on Triple A format radio stations. It will be interesting to see where she goes from here.
Ron Hoerter
SHANE DWIGHT
PLAYS THE BLUES & GIMME BACK MY MONEY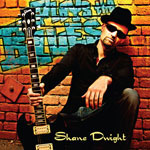 Bad News Morning jumps out of the gate with some nice harp work by Rosy Rosenblatt and some slide guitar by label mate Bob Margolin mixed in with the guitar and vocals of Shane Dwight. Vocals that have a country feel to them. You're Gonna Want Me should make Shane Dwight a household name. This song is a straight ahead Country Rocker. The vocals are even more country here than on the first song. I'm not a Country music fan but you can't help but hear it and I don't see why this song wouldn't fly up the Country charts. His voice sounds like about three different guys. Oh, I don't know maybe Randy, Toby and the guy with Dwight for a first name. This song makes me feel cool and young, Oh wait, I am cool. This song so is, that I almost forgot.
We have a straight ahead rocker with She's So Sweet. Standing features some slower Blues guitar and finds Dwight wanting his woman to make the right decision by waiting on him or maybe it is the music waiting on him or vice versa. "An how long will a good woman hang around watching a good man get beat down? I'm running out of time." Praying to the lord it's now or never. He is standing there waiting on the lord and his music to make him famous, it's his last shot. This song has a great guitar solo.
Have Some of That is a little funky and guitar driven. The Albert King influences really show here. The rest of the songs on this CD are live. High Time has some mean harp playing by Danny Hull. This is a rock & rolling rip it up tune that brings Johnny Winter to mind. Dwight really works the crowd with Pretty, Young and Mean. This song has it all and that's what you want in a live setting. It starts off with some wah wah pedal effects on the guitar which grabs a hold you. Hell it even has a drum solo (Jerome Kinsey) and once again the harp kicks ass and Dwight rips it up on guitar. What are you going to do with the young ones? They dress like hookers, watch MTV and they are so cold. I am in total agreement.
Danny Hull's sax on Don't B Flat gives this instrumental a whole different sound, a slight jazzy feel. Ode to Albert is just what you think it would be with a big heaping, dripping load of Danny Hull's sax perched right on top. Dwight pays a little homage to John Lee Hooker on Boogie King. This song is more butt kicking guitar and harp, with a little classical guitar styling in the middle just to show off and I liked it. All the live songs are ass kickers. This stuff is just fun music.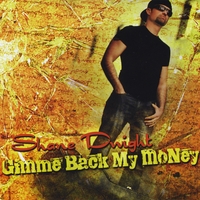 On "Gimme Back My Money", the second of two simultaneously released CDs, Dwight gives us twelve original songs. All the songs on both CDs are penned by Dwight. This CD kicks off with Last Call a song that sounds like something that could be playing on top 40 radio. It is a catchy, modern sounding song that I can see the kids getting into as did this big kid. I couldn't think of who it reminded me of, my daughter says the group Lifehouse or maybe the Calling.
Dwight who is now based in Nashville lets the influences of that town shine in his music and that is the case here with the title track Gimme Back My Money. Dwight sings "Gimme back my money, I lost. Gimme back that sweet thing that I had. Pour me some of what your drinkin' baby so I don't feel so damn bad." Richard Rosenblatt adds some nice harp work toward the end of this song.
What You Need is a hard rockin' tune with a nice rock guitar solo. With lyrics like "What you need I got it right here, big love and no fear." - "You got your Prozac and your Paxil, when all you really needed was a new thrill. Baby I am one, you better come get some. What you need." I can picture the video on MTV, think late 80's early 90's when they played music videos. Two kids and a fast car on the run and havin' fun
Break My Heart Anyway is a pop/rock tune that has kind of a new wave feel, to coin a term from the old days. The kids say it sounds like the group Weezer. Dwight writes about growing up and observing the drug use of his friends and family who were all looking for the good life on the Pop/R& B song Good Life. He describes these people dying and going into prostitution and tells you that this didn't happen in some hood in LA. It happened in the suburbs of San Jose.
The chunky funky rhythm guitar is the base of Done With You. This relationship breakup song lyrically is about the verbal shots that men take at their women when they are involved in the process of moving on. There are a few nice guitar solos and a little wah wah pedal mixed in throughout the song. Don't Forget My Name When You Pray has Native American/Country Rock vibe to it. You're Gonna Want Me shows up on this CD also, as it should. It is the strongest song on both CDs and could open the doorway to fame so why not put it on both.
Ode to Albert is a song that was covered in the review of the first CD. That was a live version with Danny Hull's sax playing stealing the show. This is the studio version with the addition of Mic Gillette on trumpet we find a much more traditional horn arrangement which works for me. It is a nice version that I like equally to the live recording.
The Country sound rears its head here again on Have a Good Time and even though I am not a Country Music fan, I like this. It is rocked up enough for my tastes. The harmonica playing of Danny Hull and the piano playing of multi instrumentalist Jim Hawthorne add a lot of flavor here. This CD ends with the ballad Don't Think Twice. This song also has a strong Country flavor to it.
My 20 year old son who is a big Blues fan likes both of these CDs a lot but he really likes give "Gimme Back My Money". My 50 something friend Rick says the same thing. This goes to the diversity of the writing and styles of the songs. Anytime you can get a 20 year old and a fifty year old to agree on something musically, you know you have an artist that is real special.
Ron Hoerter
ROY ROGERS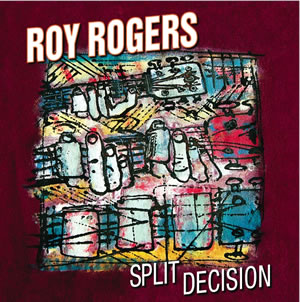 SPLIT DECISION
Am I strange or does Roy Rogers vocals remind any one else of 80's Foghat vocals? We start things off with Calm Before The Storm. Roy sings about the calm before the storm in a relationship between a man and a woman. When as a man you are just playing it cool while you gather the evidence and come up with a game plan to exit. Great slide work as we have all come to expect over the years. So at the risk of being redundant let me say that now and get it out of the way.
Patron Saint of Pain is a song that has just the coolest slow groove, heel tappin' thing going on. This song features some nice piano work by special guest Phillip Aaberg. Lyrically this song is about when a man warns a woman about another man and his intentions. We have all been down that road as men and I can tell you rarely do women heed those words.
A happy upbeat song is how I would describe Little Queen Bee. We find Rogers playing the piano on River of Tears and he does an admirable job. Bitter Rain is a song that is a stark reminder of what happened when the levee broke in New Orleans during Hurricane Katrina. "It was a cold, cold night. It was a bitter rain fallin', the devil took delight." "What have we learned? Is there any hope?" Rogers wraps it up lyrically with "Lord please forgive us, it cannot be again." This song is sung over some deep dark slide guitar.
Your Sweet Embrace is a slow, beautiful, acoustic instrumental featuring some classical guitar playing. The liner notes say Ottmar Liebert plays guitar on this track. I only hear one guitar but I could be missing something. Listening again I probably am. Rogers sing about that one true love that I think we all had and have no longer on Someone Like You. We get a lot of joy thinking about it but that little bit of pain is always there because it is over.
Another instrumental is Rite of Passage and it is Jazz baby, through and through. This song features George Brooks on both tenor and alto sax. The guitar is very understated with the horns taking stage and then mid way through, the horns disappear and the slide guitar wails out. We get some bass plucking and then it's back to the horns, very Sunday morning nice. Requiem for a Heavyweight is a catchy song vocally and the guitar work matches that catchiness with some interesting lyrics thrown in for good measure.
On the upbeat stomper Holy Ghost Moan Rogers's reminds us that we are all going to answer to the man some day for how we have lived our lives. Walkin' The Levee is yet another instrumental and wraps up this project. This one has some heavy guitar leading the way and it's not the typical slide work we have become accustomed to. There is also some fine sax work in the mix from George Brooks. We get a nice mixed bag on this CD and Rogers's guitar playing is what you think it will be. All in all this is another fine release from this outstanding performer.
Ron Hoerter
If you have a CD that you would like us to consider reviewing. Contact us @ gnbs@gnbs.org