CD Reviews
If you have a CD that you would like us to consider reviewing. Contact us
@ gnbs@gnbs.org
ROD PIAZZA
SOUL MONSTER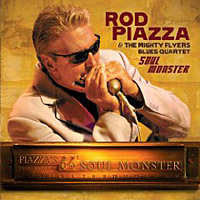 The new release by Rod Piazza and the Mighty Flyers Blues Quartet is Soul Monster. This is Rod's 24th release of his career, a career which has spanned 44 years in the music business. The title track Soul Monster kicks things off. It features outstanding rhythm and lead guitar by Henry Carvajal. This instrumental is book ended with the heavy industrial words Sooouul Monsteeer. As usual Rod's harp leads the way.

Up next is the Jimmy Reed tune Can't Stand To See You Go. The song stays true to that Jimmy Reed groove but there is so much more to listen to here. Honey's keyboards are there through out but they really step out at the end to take the song home.

On the song Cheap Wine we have more of the usual fine harp work. There is just a lot going on in this song. The guitar work once again stands out on this original tune. Rod sings "Tough times, everybody wants some. Cheap Wine."

The Big Bill Broonzy classic Key to the Highway is up next. The quartet breathes new and interesting life in to this often covered song. Honey's piano playing once again steals the show. Rod's relaxed and understated vocal fits perfectly.

The George "Harmonica" Smith instrumental Sunbird was introduced with a count down 2, 1, 0 blast off and that's what it felt like, a rocket gaining speed with all hands on deck until it left this atmosphere. It was originally produced by Rod in 1983 for Murray Brothers Records. This happened to be the same year that George passed away.

Tell Me About It Sam starts out with some story telling about how this song was first cut 1992, it was called Blues in 92. This is a tribute to the late Sam Meyers who sang it live once when Rod couldn't remember the lyrics. With lyrics like "Things are tough all over and we just can't make it right" and "Interest is cheap, but no cash can be found," Rod is correct in saying that the words are more profound today than they were then.

The song Queen Bee stays close to what we are used to. It is totally dominated by the harp playing, which is fine. I could have done without the vocals being sung through the old harp mic. They were kind of annoying to listen to and distracted from an otherwise nice tune.

It's all Rod on Expression Session with Honey laying down the backdrop. When I listen to Ko Ko Mo (I Love You So) the first thing that struck me was the constant piano tinkling is in the background. This song is more guitar driven with some nice sax work by Jonny Viau.

I was reminded of the movie American Graffiti when I listened to Talk To Me. This movie was one of my favorites when I was just a little annoying know it all who had to tell everyone one how funny that movie was. This is definitely a song straight out of the fifties.

This sped up version of Little Walter's You Better Watch Yourself marched along like the Marines on methamphetamines and I am ok with that. This leads to our final track Hey, Mrs. Jones. My thoughts on this track were that it's nice to hear the sax in the mix with this top notch group of musicians.

My impression of Rod Piazza and the Mighty Flyers, who I have seen live a couple of times has always been that they put on a solid performance whether they are live or in the studio. Soul Monster is no exception.
Ron Hoerter
If you have a CD that you would like us to consider reviewing. Contact us @ gnbs@gnbs.org