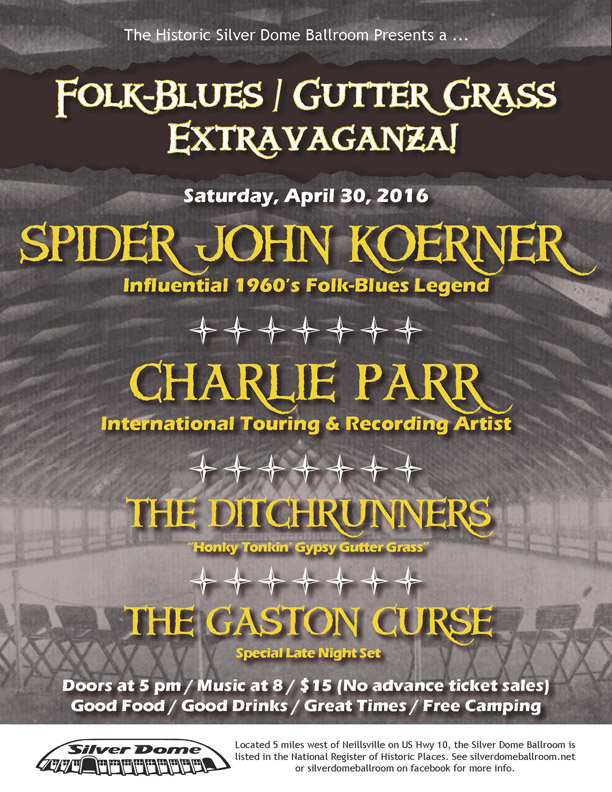 FOLK-BLUES GUTTER GRASS EXTRAVAGANZA
SATURDAY, APRIL 30
SILVER DOME BALLROOM
Doors at 5 pm / Music at 8 pm / $15
On Saturday, April 30th, the historic Silver Dome Ballroom is thrilled to present two of the finest Folk-Blues artists in the world today.
60's Folk-Blues legend
SPIDER JOHN KOERNER
Red House recording artist and legend-in-the-making
CHARLIE PARR
Thank you!
We want to thank everyone that attended this year's Blues Café on March 12, 2016. It was a definite success, and that would not happen without your support -- it is appreciated.
Also, a heartfelt thank you to almost 100 volunteers that help make the event so special. Without you, we'd be sunk.
We felt that all five bands were great, and if there are varying opinions out there we would sincerely appreciate any feedback that you want to offer. Favorite band? Any other acts that you'd like to see at future shows? Things that could be done better? We'd like to hear it all.
Keep in mind that we also count on society memberships. Every $10 goes toward the support of our society, and is vital in our continuing effort to spread the gospel of the blues!
Once again, thanks to all for attending!
Mike "Mr. T" Tatro
GNBS President
Thought we'd share a few comments about the show . . .
Thank you, thank you, thank you!! To the GNBS crew for that AMAZING show yesterday! The 2016 Blues Cafe was beyond compare! BEST CAFE EVER!! It was a showcase of the finest talent out there! The high energy of AWATH and Left Lane Cruiser, followed by the laid-back Ray Fuller and soulful Lionel Young, capped off by the guitar ripping Albert Cummings...brilliant! When I first saw the lineup I was giddy with anticipation and it was certainly NOT a disappointment! Kudos to whomever put that lineup together! I can only think that this genius was also responsible for the lineup for BBF in August...quite possibly the flush toilet and sliced bread as well! Well done and THANKS again! It was a terrific show! -- Shawn from Wausau
BEST BLUES CAFE EVER! -- Derek from Wausau
Great job on the event. LOVE THE SIGN ON THE STAGE. I know I mentioned it to you. But, to me, it added a lot. -- Peter from Grafton

Great show! -- Mitch
2016 Blues Cafe Blues Festival, Wausau WI! What a great crowd of dancers we had on this spring loaded floor! Put this festival on your 2017 must attend list! -– Sherri from Columbus, Ohio
Thanks it was an incredible night of great music and all the bands were great, especially Aaron Williams and Albert Cummings. -- Stephanie Howell
As someone who has been involved in the live entertainment industry for 30+ years, I want to applaud you for stepping away from the 'norm' with blues shows, merely hiring a band to bring their PA in for your event. Too many organizations cut corners and go the cheap route. It's obvious that you care about the presentation of the music. -- Stuart

Who's on First -- April 20, 2016 • Best Blues Albums of 2015
BLUES FANS, MUSICIANS, SOCIETIES AND FELLOW MUSIC TRAVELERS
70's & 80's in April - life is GOOD! Can't complain about warm pleasant weather.
BLUES ALERT: The Silver Dome Ballroom in Neillsville is hosting a Folk-Blues, Rockabilly event April 30th. Featured are SPIDER JOHN KOERNER plusCHARLIE PARR as well as the Ditchrunners from Stevens Point doing "Honky-Tonkin' Gypsy Gutter Grass" and The Gaston Curse out of Marshfield. No advance sales - tickets run $15 each. FREE camping available on site. Doors open at 5 PM with music starting at 8 and running until after midnight.
If cooler weather and somewhat long nights are STILL gettin' ya down the Doc has a treatment plan for ya'! Get out and LISTEN to some LIVE Blues music! It'll fix ya right up! Warm ya up too!
Should two weeks pass and you still haven't gotten your copy of "Who's On..." please check either the Great Northern Blues Soc. site or the Madison Blues Soc. web page. Both generally post the latest edition.
If you know any fellow Blues & Blues Rock fans that don't receive "Who's On First" send me their E-Mail address or better yet let them know they can drop me a line requesting a copy. I'll be happy to add them to the distribution list!
GREAT BLUES NEWS:
And GREAT NEWS it is!! The Mississippi Valley Blues Soc. (MVBS) just announced that the MISSISSIPPI VALLEY BLUES FESTIVAL is returning in 2016 on July 1st & 2nd for its 31st year! It's held on a fantastic site - Le Claire Park - on the Mississippi River in downtown Davenport, IOWA.
Unfortunately MVBS had to cancel the fest in 2015 due to lack of sponsorship. NOTE - YOU can help bring this one back! MVBS is seeking corporate & individual sponsors and will be setting up a Go-Fund-Me campaign soon. To donate and for more information check their web site at mvbs.org.
NEW BLUES GIGS & FESTIVALS?
ALWAYS looking for any Blues gigs, festivals and related events that you know about that you don't see in the latest "Who's On...". If you have information about an upcoming gig or Blues happening - PLEASE - drop me a line with the who, where, when and other details and I'll consider adding it to the next edition! If you know of a CHANGE (date, location, artists appearing) in a listed event not shown in the latest edition that will STILL be relevant in the NEXT please let me know as well. This goes double for Blues/Blues Rock bands in or not shown in "Who's On..."!
BLUES NEWS:
TWEED FUNK'S "SMOKEY" HOLMAN DIAGNOSED WITH MULTIPLE MYELOMA: "Smokey" is the bands front man and he's started treatment with chemotherapy and later this Summer will undergo a stem cell transplant. This has caused the band to CANCELL all engagements between July 15 and October 15 of this year.
On a happier note the band will release their NEW album titled COME TOGETHER April 29th and are looking forward to upcoming release parties as well as their other dates. Send out a prayer for Smokey and his band mates.
2016 INDUCTEES TO THE BLUES HALL OF FAME ANNOUNCED: Coming up May 4th of this year FIVE new & legendary Blues performers, two additional folks instrumental in the creation of the music, 5 single recordings, 1 album and one book will be inducted into the Blues Hall of Fame.
The performers to be inducted are Elvin Bishop, Eddy "The Chief" Clearwater, Jimmy Johnson, John Mayall and the Memphis Jug Band. Non-performers recognized by the Blues Foundation for their contributions to the art form are Tommy Couch, Sr. & Wolf Stephenson - joint partners in Malaco Records. Over the years Malaco recorded Little Milton, Z.Z. Hill, Dorothy Moore, Denise LaSalle and many more.
Single recordings to be honored are 1920's "Crazy Blues" by Mamie Smith, Jimmy Rogers "That's All Right" from Chess in 1950, "I Wish You Would" done by Billy Boy Arnold in 1955, Charles Brown's take on Johnny Moore's "Merry Christmas Baby" pressed by Exclusive in 1947 and Leroy Carr/Scrapper Blackwell's "Blues Before Sunrise" recorded on Vocalion in 1934. The classic album is Blues In The Mississippi Night first released by Nixa in 1957 from field recordings made by Alan Lomax of Big Bill Broonzy, Memphis Slim and Sonny Boy Williamson I in the late 40's. It's a gem.
The book to be honored is Jeff Todd Titon's EARLY DOWNHOME BLUES: A MUSICAL AND CULTURAL ANALYSIS. The work is said by some to be one of the most important analytical studies of the Blues to appear so far.
The ceremony will be held in May at the Sheraton Memphis Downtown in Memphis, TN the night before the 37th Blues Music Awards.
2017 DATES ANNOUNCED FOR THE 33RD INTERNATIONAL BLUES CHALLENGE: Memphis will be rockin' from January 31st to February 4th of 2017 with the 33rd IBC! If you're a Blues fan and have never attended - give HARD consideration to taking this event in next year. Acts from all over the World playing venues up and down Beale Street! One great big tasty dose of the Blues!
BLUES MUSIC AWARD NOMINEES ANNOUNED: The International Blues Foundation has announced the nominees for the 2016 Blues Music Awards. There are way TOO many to list here but you can see ALL the nominees in ALL categories at www.blues.org.
I'm happy to point out that Wisconsin's own CASH BOX KINGS have been nominated in THREE categories - Blues Album of the Year, Band of the Year plus Traditional Blues Album. Although he's not from Wisconsin an artist that performs fairly often in Wisconsin venues - BARRELHOUSE CHUCK - has been nominated for Pinetop Perkins Piano Player of the Year. Good Luck to both artists/group above PLUS ALL artists and bands nominated.
If you're already a member of the Blues Foundation you should receive a ballot just before Christmas. Should you not be but would like to vote - you're gonna have to join!! Money well spent.
BLUES HALL OF FAME: Is open to the public down in Memphis, TN! Recently the museum extended its hours to SEVEN days 10 AM to 5 PM Monday thru Saturday and 1 PM to 5 PM on Sunday.
Costs are $10 for adults and $8 for students ages 13 to 18.
BLUES BABY BIRTHDAYS:
Performers in Blues, Gospel, R&B and Soul born between April 17 and 30 include James Armstrong 4/22, Earl Bostic 4/25, Wayne Baker Brooks 4/30, Clarence "Gatemouth" Brown 4/18, Sam Carr 4/17, Billy Davenport 4/23, Charles "Cow Cow" Devenport 4/23, the Reverend Gary Davis 4/30, Alfred "Pee Wee" Ellis 4/21, Johnny Fuller 4/20, Bill "Leroy's Buddy" Gaither 4/21, Paul Geremia 4/21, Clifford Gibson 4/17, Phil Guy 4/28, Bee Houston 4/19, J.B. Hutto 4/26, "Bullmoose" Jackson 4/22, Albert King 4/25, Andy Kulberg 4/30, song writer Jerry Leiber 4/25, Cosimo Matassa (started the first recording studio in New Orleans) 4/26, Forest McDonald 4/22, Big Jay McNeely 4/29, Little Brother Montgomery 4/18, Jimmy "T-99" Nelson 4/17, Alan Price 4/19, Gary Primich, Ma "Mother of the Blues" Rainey 4/26, Jimmy Lee Robinson 4/30, Otis Russ 4/29, Mabel Scott 4/30, Johnny Shines 4/26, Frankie Lee Sims 4/30, Byther Smith 4/17, George "Harmonica" Smith 4/22 and Hop Wilson 4/27.
Lift up a glass of whatever and wish each and every one of them a VERY HAPPY BIRTHDAY! Some are gone but their music lives on. If you'd like to know more about any of the above Google their name - most will show up in Wikipedia, Allmusic, Reverbnation, their own site or somewhere else on the web.
You can also check many of them out in books such as Robert Santelli's excellent THE BIG BOOK OF BLUES - a biographical encyclopedia, Brian Robertson's LITTLE BLUES BOOK illustrated by R. Crumb, BLUES FOR DUMMIES written by Lonnie Brooks, Cub Koda and Wayne Baker Brooks, THE BLUES - THE EXPERTS GUIDE TO THE BEST BLUES RECORDINGS edited by Michael Eriewine, Vladimir Bogdanov, Chris Woodstra and Cub Koda or a number of other works about Blues & related artists.
BLUES RADIO CHARTS:
The latest Roots Music Report Top 50 Blues albums list was released April 18th and shows Janiva Magness' LOVE WINS AGAIN released by Blue Elan at #1, the Tedeschi Trucks Band LET ME GET BY is 2nd, Curtis Salgado's brand new THE BEAUTIFUL LOWDOWN ranks 3rd, Toronzo Cannon's THE CHICAGO WAY moving to 4th and GIVE IT BACK TO YOU by the Record Company is 5th.
The rest of the current Top Ten recordings are by Guy King, Tommy Castro, RB Stone, Mavis Staples and the Golden State Lone Star Blues Revue.
The weeks Top Five Blues songs of the same date are the Tedeschi Trucks Band "Anyhow" still at #1, "Love Wins Again" from Janiva Magness remains at 2nd followed by "Off The Ground" done by the Record Company, Buddy Guy's "Born To Play Guitar" and "Virtual World" performed by the Rides.
In Blues on the Wisconsin Roots Music chart of April 18th the Jimmy's HOT DISH is third and West-
side Andy's latest BLUES JUST HAPPEN is in the 6th spot. The rest of the Wisconsin chart is made up of releases in other genres.
The Living Blues Magazine Radio chart comes out every month covering the PREVIOUS month. So the most recent reflects MARCH, 2016 plays compiled April 1st and has not changed from the last "Who's On..." where Toronzo Cannon's THE CHICAGO WAY was 1st followed by Johnny Rawls TIGER IN A CAGE, 3rd is taken by GOD DON'T NEVER CHANGE: SONGS OF BLIND WILLIE JOHNSON done by various artists, Janiva Magness' latest LOVE WINS AGAIN in 4th and GOLDEN STATE LONE STAR BLUES REVUE performed by the same hold down #5.
The next five albums in Living Blues top ten that aired in March are from the Magic Sam Blues Band, the James Hunter Six, Tedeschi Trucks Band, Peter Karp and R.B. Stone.
FESTIVALS:
Fest action is starting to heat up - at least in the sense of event listings for later in the year. If you have the bug you'll have to travel for an outdoor event or wait for warmer weather to return to the Upper Midwest.
Many fests have posting their 2016 dates and in some cases partial or complete bills. I'll add them to the attachment over the next few months as information comes in.
WAUSAU AREA MUSIC:
Musical or Blues happenings coming up in the near future in or around Wausau or within a reason-able drive (about a 100 miles) include Bobby Evans April 29 at Appleton's Deja Vu, Michael Murphy & the Mob April 20 at the Ten O' One Club in Green Bay, Hip Pocket May 6 at the Kress Events Cent. in Green Bay, Cadillac Pete & the Heat July 30 at JOE BUCHER'S BLUES FEST in Stevens Point, Dale Anderson & the Delta Jets June 26 at Gasoline in Green Bay, 20 Watt Tombstone 5/6 at Wausau's Polack Inn plus Big Mouth & the Power Tool Horns April 30 at Green Bay's Fox Harbor Pub,
EVENTS A BIT FURTHER AWAY:
Among BLUES or other special music further afield you can pick from THE RIDES May 3rd at the Pabst Theater in Milwaukee, the Jimmy's April 30th at the Milwaukee Ale House in Milwaukee, ROCKIN' JOHNNY BURGIN April 19 & again May 1 at Parkside 23 in Brookfield, the Dave Potter Trio w/JEREMY JOHNSON April 25 at Boundaries in Beloit, JOE BONAMASSA May 12 at the Widener Center in Green Bay, Joyann Parker & Sweet Tea May 1 at the Amsterdam Bar in St. Paul, MN, JOHN FOGERTY May 22 at the Riverside in Milwaukee, the Blue Olive Band April 29 at the Club Tavern in Madison, PAUL THORN W/DANELLE NICOLE April 20 at Turner Hall in Milwaukee, Davina & the Vagabonds at an album release party April 24 at the Dakota Jazz Club in Minneapolis, MN, CHARLES BRADLEY April 29 at Turner Hall in Milwaukee and LAMONT CRANSTON BAND May 6 at Wilebski's in St. Paul, MN,
For all the details and much more - see the attachment.
BLUES RADIO:
If you're looking for a Blues fix on the radio and are South of Wausau tune in every Saturday to "Blues Cafe" with Papa Joe starting at 3 until 7 PM on WWSP's 89.9 FM out of Stevens Point. Also "Blues Friday" starting at 6 PM until 12 AM on Rhinelander's WXPR 91.7 FM and 91.8 in Wausau. You can get BOTH on the World wide web as well NO matter where ya live!
Yours in the Blues;
Blues Doctor