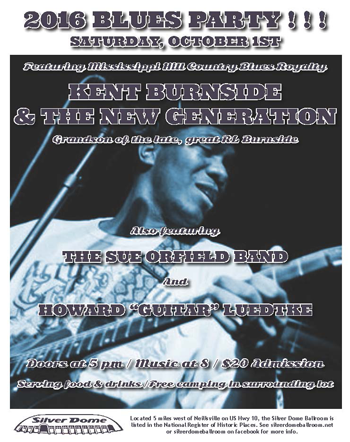 Join our friends at the Silver Dome for their
2016 Blues Party
Saturday, October 1st
Featuring
Kent Burnside & the New Generation

Also featuring
The Sue Orfield Band
and
Howard "Guitar" Luedtke


Doors open @ 5 pm / Music @ 8 pm / $20 admission
Serving food & drinks / Free camping in surrounding lot
Located five miles west of Neillsville on US Hwy. 10, the Silver Dome is listed in the National Register of Historic Places. See silverdomeballroom.net or Silver Dome Ballroom on Facebook for more info.

Who's on First -- August 24, 2016 • Best Blues Albums of 2015
BLUES FANS, MUSICIANS, SOCIETIES AND FELLOW MUSIC TRAVELERS:
The Doc was out of town the week of August 10 so NO "Who's On First" was sent out. Some things are sacred including Family vacations. Got to play with the Grandkids - better than a Blues festival!!
Speaking of which the BIG BULL FALLS BLUES FESTIVAL was great! All the artists put on fine shows. Doc really enjoyed Guitar Shorty's bass player - he got sounds out of the bass that few players have or can. Some of the other bass players performed well above average.
A few other high points (at least for me) were to see Renee Austin singing again. Quite a story there. Another was seeing Elvin Bishop join John Mayall on stage toward the end of John's set - a real nice touch.
NOTE: This will be the LAST "Who's On..." until October 19 or so. I'll be out of the country and unable to write it! I've done all I can to make the attached cover the time I'm gone but some events will be missed. If you've got a favorite artist or two that you'd like to see go to their web site to check where you can catch them.
Blues Festival Season continues in the Upper Midwest, the U.S. and most of the rest of the World. Lots and lots of Blues and related events in Wisconsin and area. Decisions, decisions, decisions!!
A NOTE (again) about festivals (ID'd in RED) - remember not all are strictly Blues events. Some are of general interest located in Wisconsin or North Central Wisconsin, have a Blues element or related music (Americana, R&B, Soul, Funk, etc.) and some just look like a lot of FUN! Pick one, pick two or more and ENJOY!!
If you don't see a Blues event/fest you know is coming up in Wisconsin or in one of our neighboring states let me know the name, date/dates and where it's held. If you have additional info that's NOT available on the web please include all you can. I'll do my best to get any such into the next edition.
As always if life is gettin' ya down the Doc has a cure! Get out and LISTEN to some LIVE Blues music. It'll fix ya right up! Warm ya up too! Better then penicillin. There are a WHOLE bunch of opportunities below and in the attachment.
BLUES ALERTS: The CHARLES WALKER BAND plays the LAST Concert on the Square in Wausau Aug. 24th. More a Soul/R&B Band these days Charles & Co. can & do play Blues once in a while. The GHOSTTOWN BLUES BAND does Madison's Knuckle Down Saloon Sept. 2. If you're a fan of BONNIE RAITT you can catch her Sept. 2 at the Riverside Theater in Milwaukee or if more convenient at the Minnesota State Fair in Saint Paul, MN Sept. 5. LEON RUSSELL is at the Pabst Theater in Milwaukee Sept. 2nd.
Festival action?? Lots and lots are coming up! BLUES BY THE BAY runs 8/26 - 28 in East Tawas, MI. Same dates apply for MOOSEFEST 2016 at the Smiling Moose in Newton while the OLD CAPITOL BLUES & BBQ event is held 8/26 & 27 in downtown Springfield, IL. The 2016 CROSSROADS BLUES FESTIVAL is on Aug. 27 in Lyran Park, Rockford; IL and the END OF SUMMER BLUES FEST has the same date in Alpha, MICHIGAN.
Back in Wisconsin the Paramount Music Assoc. will put on the PARAMOUNT BLUES FEST at Coal Dock Park in Port Washington Sept. 2 thru 4th. Unfortunately these are the same dates of the MARQUETTE AREA BLUES FESTIVAL sponsored by the Marquette Area Blues Soc. in Mattson Lower Harbor Park in Marquette, MI. Another fine event the 2016 BOWLFUL OF BLUES takes place Sept. 4 in the Maytag Bowl of Maytag Park in Newton, IOWA. See the attachment for acts & details.
Should two weeks pass and you still haven't gotten your copy of "Who's On..." (EXCEPT from Aug. 24 to about Oct. 19th) please check either the Great Northern Blues Soc. site or the Madison Blues Soc. web page. Both generally post the latest edition.
If you know any fellow Blues & Blues Rock fans that don't receive "Who's On First" let them know they can drop me a line requesting a copy. I'll be happy to add them to the list!
NEW BLUES GIGS & FESTIVALS?
I'm STILL looking for any Blues gigs, festivals and related events that you know about that aren't shown in this or an earlier "Who's On...". If you have information about an upcoming gig or Blues happening - PLEASE - drop me a line with the who, where, when and other details and I'll consider adding it to the next edition! If you know of a CHANGE (date, location, artists appearing) in a listed event not shown in the latest edition that will STILL be relevant in the NEXT please let me know as well. This goes double for Blues/Blues Rock bands in or not shown in "Who's On..."!
BLUES NEWS:
SMITHSONIAN FOLKWAYS RECORDS ACQUIRES ARHOOLIE: Smithsonian has picked up the catalogue of Arhoolie Records from funder Chris Strachwitz & his partner. This includes over 350 albums released since 1960. This means the catalogue will continue to be available to music fans.
LOCAL FAVORITES LIL' ED & THE BLUES IMPERIALS RECORD NEW ALBUM: Lil' Ed and his band have finished recording 16 songs for a new album to be released in September. The album has just been named! It'll be out as THE BIG SOUND OF LIL' ED & THE BLUES IMPERIALS.
BLUES ROCK LEGEND LONNIE MACK PASSES: One of the first true guitar hero's of Rock and Blues Rock has joined the big Gig above. Lonnie Mack died April 21st at the age of 74 from natural causes. Mack has been laid to rest near where he grew up in Aurora, Indiana. A personal favorite of mine he will be missed.
BENEFIT FOR TWEED FUNK'S "SMOKEY" HOLMAN PLANNED: "Smokey" is the bands front man and has been diagnosed with multiple Myeloma cancer and in August will undergo a stem cell transplant. To help pay the medical bills Anodyne Coffee in Milwaukee will host a benefit with doors opening at 5 PM August 24th and music starting at 6 PM.
Scheduled guests include Marvelous Mac, Timothy Charles & the Blind Fiction, GREG KOCH, TWEED FUNK, SHONN HINTON, THE BLUES DISCIPLES with Spec. guest REV. RAVEN! Suggested Donation is $15.
2017 DATES ANNOUNCED FOR THE 33RD INTERNATIONAL BLUES CHALLENGE:
Memphis will be rockin' from January 31st to February 4th of 2017 with the 33rd IBC! If you're a Blues fan and have never attended - give HARD consideration to taking this event in next year. Acts from all over the World playing venues up and down Beale Street! One great big tasty dose of the Blues!
BLUES HALL OF FAME: Is open to the public down in Memphis, TN and recently the museum extended its hours to SEVEN days 10 AM to 5 PM Monday thru Saturday and 1 PM to 5 PM on Sunday.
Costs are $10 for adults and $8 for students ages 13 to 18. Take it in if you're there or plan to.
BLUES BABY BIRTHDAYS:
Musicians who perform or performed Blues, Gospel, R&B and Soul born between Aug. 21 and September 3rd include May Alix Aug. 31, Renee Austin 8/29, COUNT BASIE Aug. 21, Archie Bell 9/1, Jewel Brown Aug. 30, WALTER BROWN Aug ?, Charlie Burse (Memphis Jug Band) 8/25, Carolina Slim 8/22, Joanne Connor Aug. 31, Floyd Council Sept. 2, ARTHUR "BIG BOY" CRUDUP 8/29, Debbie Davies Aug. 22, Wynonie Harris 8/24, JOHN LEE HOOKER Aug. 22, Luther "Snake Boy" Johnson 8/30, FREDDIE KING Sept. 3, MEMPHIS SLIM 9/3, Bobby Parker 8/31, Odie Payne Jr. 8/27, Dalton Reed 8/23, Todd Rhodes 8/31, JIMMY RUSHING Aug. 26, David Sanjek (music educator) 9/3, Matt Schofield Aug. 21, Jim Simon 9/2, Roscoe Shelton Aug. 22, Henry "Son" Sims Aug. 22, DINAH WASHINGTON Aug. 29, Edith Wilson Sept. 2 and James Wheeler 8/28.
Lets ALL lift up a glass of something and wish each and everyone above a VERY VERY HAPPY BIRTHDAY! Some are gone but their music lives on. If you'd like to know more about any of the above Google their name - most will show up in Wikipedia, Allmusic, Reverbnation, their own site or somewhere else on the web.
You can also check many of them out in books such as Robert Santelli's excellent THE BIG BOOK OF BLUES - a biographical encyclopedia, Brian Robertson's LITTLE BLUES BOOK illustrated by R. Crumb, BLUES FOR DUMMIES written by Lonnie Brooks, Cub Koda and Wayne Baker Brooks, THE BLUES - THE EXPERTS GUIDE TO THE BEST BLUES RECORDINGS edited by Michael Eriewine, Vladimir Bogdanov, Chris Woodstra and Cub Koda or a number of other works about Blues & related artists.
BLUES RADIO CHARTS:
The most recent Roots Music Report Top 50 Blues albums list came out Aug. 20 and has the Royal Southern Brotherhood's THE ROYAL GOSPEL 1st, Albert Castiglia's BIG DOG second, JUMPIN' & BOPPIN' by Kenny "Blues Boss" Wayne 3rd, William Bell's THIS IS WHERE I LIVE 4th and the Record Company's GIVE IT BACK TO YOU holding down fifth.
The rest of the current Top Ten Blues albums are from Eric Clapton, Eric Lindell, the Tedeschi Trucks Band, Janiva Magness and Toronzo Cannon.
This weeks Top Five Blues songs include "Off The Ground" by the Record Company, "Rolling On" done by Peter Wolf, a "Unknown" song by Tony Joe White, "Anyhow" from the Tedeschi Trucks Band and "Everybody Pays Some Dues" by the Royal Southern Brotherhood. There must STILL be a problem with their web site cause Tony Joe White's album doesn't have a song titled "Unknown".
In Blues on the Wisconsin Roots Music chart of the same date Tweed Funk's COME TOGETHER is at #1 and is the ONLY Blues release on it. The remaining recordings are from other genres.
The Living Blues Magazine Radio chart comes out every month covering the PREVIOUS month. The latest was totaled August 1st reflecting JULY plays has Kenny "Blues Boss" Wayne's JUMPIN" & BOPPIN' at #1, FROM THE ROOT TO THE FRUIT by Nick Moss #2, Tinsley Ellis's RED CLAY SOUL at #3, Albert Castiglia's BIG DOG forth and Big Jan Atkinson & Bob Corritore's joint effort HOUSE PARTY AT BIG JON'S at number five.
The next five albums in Living Blues top ten of the same date are from the Lucky Losers, Royal Southern Brotherhood, Lisa Mann, William Bell and the latest Alligator compilation 45TH ANNIVER-ARY COLLECTION.
FESTIVALS:
Fest action is REALLY heating up. Get all the details in the attachment! Most fests have posting their 2016 dates and at least partial or complete bills. I'll add additional info as it comes in and I have the time. If you see an event that looks interesting but no or only a few acts are listed look it up on the web.
WAUSAU AREA MUSIC:
A few Musical or Blues happenings coming up in the near future in or around Wausau or within a reasonable drive (about a 100 miles) that you might want to consider include the DELTA DUO (Howard Luedtke & Cadillac Pete) Sept. 10 at the Elks Club in Stevens Point, Hip Pocket Aug. 27 at Boondocker's Lounge in Eagle River, the Johnny T-Bird Trio 8/27 at Gorillas in Oshkosh, the Steve Meyer Band Sept. 23 at Wausau's Intermission, Michael Murphy & the Mob 8/27 at Freddie's Pub in Wisc. Rapids, Mojo Perry Aug. 27 at Classic's in Shawano and Reverend Raven Aug. 23 at Pullman's in Oshkosh. Get details on these and more in the attachment.
EVENTS A BIT FURTHER AWAY:
Among BLUES or other special music further afield you may be interested in are BILLY FLYNN Aug. 27 in Ellison Bay, Paul Filipowicz w/Maggie "Blues Chick" Aliotta 8/26 at Madison's Badger Bowl, the Jimmy's Sept. 2 at the PARAMOUNT BLUES FEST in Port Washington and EVEN MORE Top artists playing the state and area in "Who's On...".
BLUES RADIO:
If you're looking for a Blues fix on the radio tune into "Blues Friday" starting at 6 PM until 12 AM on Rhinelander's WXPR 91.7 FM and 91.8 in Wausau. You can also pick it up on the World wide web as well NO matter where ya live!
Yours in the Blues;
Blues Doctor
Thank you!
We want to thank everyone that attended this year's Blues Café on March 12, 2016. It was a definite success, and that would not happen without your support -- it is appreciated.
Also, a heartfelt thank you to almost 100 volunteers that help make the event so special. Without you, we'd be sunk.
We felt that all five bands were great, and if there are varying opinions out there we would sincerely appreciate any feedback that you want to offer. Favorite band? Any other acts that you'd like to see at future shows? Things that could be done better? We'd like to hear it all.
Keep in mind that we also count on society memberships. Every $10 goes toward the support of our society, and is vital in our continuing effort to spread the gospel of the blues!
Once again, thanks to all for attending!
Mike "Mr. T" Tatro
GNBS President
Thought we'd share a few comments about the show . . .
Thank you, thank you, thank you!! To the GNBS crew for that AMAZING show yesterday! The 2016 Blues Cafe was beyond compare! BEST CAFE EVER!! It was a showcase of the finest talent out there! The high energy of AWATH and Left Lane Cruiser, followed by the laid-back Ray Fuller and soulful Lionel Young, capped off by the guitar ripping Albert Cummings...brilliant! When I first saw the lineup I was giddy with anticipation and it was certainly NOT a disappointment! Kudos to whomever put that lineup together! I can only think that this genius was also responsible for the lineup for BBF in August...quite possibly the flush toilet and sliced bread as well! Well done and THANKS again! It was a terrific show! -- Shawn from Wausau
BEST BLUES CAFE EVER! -- Derek from Wausau
Great job on the event. LOVE THE SIGN ON THE STAGE. I know I mentioned it to you. But, to me, it added a lot. -- Peter from Grafton

Great show! -- Mitch
2016 Blues Cafe Blues Festival, Wausau WI! What a great crowd of dancers we had on this spring loaded floor! Put this festival on your 2017 must attend list! -– Sherri from Columbus, Ohio
Thanks it was an incredible night of great music and all the bands were great, especially Aaron Williams and Albert Cummings. -- Stephanie Howell
As someone who has been involved in the live entertainment industry for 30+ years, I want to applaud you for stepping away from the 'norm' with blues shows, merely hiring a band to bring their PA in for your event. Too many organizations cut corners and go the cheap route. It's obvious that you care about the presentation of the music. -- Stuart
The Great Northern Blues Society meets every second Tuesday of the month at 7 pm, (in the back room) at Loppnow's Bar, 1502 N. Third Street in Wausau.
All members are invited and encouraged to attend.
Email us for more information or with any questions.