Who's on First -- September 23, 2015

BLUES FANS, MUSICIANS, SOCIETIES AND FELLOW MUSIC TRAVELERS:
Blues fans in North Central Wisconsin were blessed with a fantastic show from KEB' MO' at the Grand Theater September 18th. He appeared with a full backing band who also provided vocal backup as well as some solo work of their own. Keb' Mo' only did one solo number with the band helping out on rest of the numbers.
Some things I found interesting last Friday night included ALL members of the band singing backup to Keb' Mo's lead. At one point in the program Keb' had EACH band member sing a line of one of his songs. All in all this was one of most enjoyable shows I've seen at the Grand. One downer was the empty seats (one is too many) at what should have been a sold out house.
NEW BLUES GIGS & FESTIVALS?
Still looking for any Blues gigs, festivals and related events that you know about that you don't see in the latest "Who's On...". If you have information about an upcoming gig or Blues happening - PLEASE - drop me a line with the who, where, when and other details and I'll consider adding it to the next edition! If you know of a CHANGE (date, location, artists appearing) in a listed event not shown in the latest edition that will STILL be relevant in the NEXT please let me know as well. This goes double for Blues/Blues Rock bands in or not shown in "Who's On..."!
BLUES NEWS:
BLUES BLAST AWARD VOTING & AWARDS SHOW: If you haven't voted in the 2015 Blues Blast music awards you have run out of time! However you can attend the award show September 25th at the Fluid Events Center in Champaign, ILLINOIS. Doors open at 5 PM and the show starts at 6.
Advance tickets run $40 each or $100 for VIP. For that you'll be treated to performances by over TWENTY of the nominees. Among the 2015 nominees are EDDIE "THE CHIEF" CLEARWATER, MUD MORGANFIELD, TAD ROBINSON, ANDY T. & NICK NIXON BAND, BIG HARP GEORGE, CHRIS O'LEARY BAND, JOHN GINTY, REVEREND RAVEN, ALTERED FIVE BLUES BAND and OSCAR WILSON OF THE CASH BOX KINGS plus MANY more. For more go to www.BluesBlastMagazine.com.
PAUL FILIPOWIC TO BE HONORED: Doc just got the word that Paul is to be inducted into the CHICAGO BLUES HALL OF FAME on October 4th at Buddy Guy's Legends in Chicago along with Sam Lay, Tail Dragger and others. My congrats go out to Paul for servin' up some great Blues over the years and he's far from done. He's got a new album being mixed as you read this that he hopes to have out by mid October. It was recorded live at the Knuckle Down Saloon back in July and has a working title of "Live at the Knuckle Down".
Things for Paul get even better! He's been invited on the 25th "Legendary Rhythm & Blues Cruise" leaving in late October by Big City Blues Magazine out of Detroit. Here's wishing him a safe and fantastic time in the middle of all the Blues action!
MORE WISCONSIN ARTISTS RELEASE NEW ALBUMS: It's been a good year for Wisconsin Blues music and it's getting even better. Recently the Doc's received copies of a bunch of new CD's from state musicians.
MADISON SLIM has authored his FIRST solo release - Close ... But No Cigar and it kicks! In addition to Slim's harp and vocals - Barrelhouse Chuck, Billy Flynn and Doug Deming and others help out on the recording. WESTSIDE ANDY'S latest is titled Blues Just Happen and is a "Live" recording featuring Billy Flynn and Barrelhouse Chuck just released on the Earrelevant Records label. Lastly but far from least our own REVEREND RAVEN came out with Live At The Big Bull on the Nevermore label. It's made up of "Live" takes at the 2012 Big Bull Falls Blues Festival in Wausau plus 3 cuts laid down at Kochanski's Beer Hall in Milwaukee. In addition to the Rev. your ears are treated to cuts featuring both Benny Rickun and Westside Andy on harp and Big Al Groth on Sax.
In addition THE JIMMY'S have a new album out as well. More about that directly below!
NEW JIMMY'S ALBUM OUT: Per young Master Jimmy Voegeli the Jimmy's are working on a NEW album! Tentative title is HOT DISH featuring all original tunes. It's done now and WAS available at the Big Bull Falls Fest where the band put on a FINE show! It's currently burnin' up Doc's CD player and he likes it a WHOLE LOT!!
BLUES HALL OF FAME: Is now open to the public down in Memphis, TN. Recently the museum extended its hours to SEVEN days 10 AM to 5 PM Monday thru Saturday and 1 PM to 5 PM on Sunday.
Costs are $10 for adults and $8 for students ages 13 to 18.
SNOW BIRD BLUES FANS: Are you thinking of taking a break from Wisconsin's Winter Blues? Are you a Blues fan? Both?? Missed signing up for the Blues Cruise? Then you might consider joining Jimmy Voegeli and the Jimmy's in JAMAICA this coming February (ya I know Summer just starting but ya gotta plan ahead!).
The Jimmy's along with Westside Andy will be playing the Jewel Runaway Bay Beach & Golf Resort in Jamaica Feb. 6 thru the 13th, 2016. The package includes round trip airfare from Chicago to Montego Bay, 7 nights lodging at Jewel Runaway Bay Resort including white sand beaches, crystal clear Caribbean waters, all meals, snacks, wine, beer, cocktails, restocked (daily) in room mini-bar, 3 pools with swim-up service, water park, private CHAMPIANSHIP 18 hole golf course, free WiFi, entertainment, fitness center & trainer, glass bottom boat rides, 7 restaurants and the Doc's fingers are going numb from typing! Just say there a LOT included. Oh ya - you get TWO (2) performances by the Jimmy's featuring WESTSIDE ANDY
Interested? Contact Middleton Travel at 800 688-8785 or www.middletontravel.com and tell 'em Jimmy sent ya! That might get you some goodies. Telling 'em the Doc sent you will get you NADA!
TORONZO CANNON SIGNS WITH ALLIGATOR: Chicago born artist Cannon recently signed on with the Alligator Label. Together they plan on a NEW album due early in 2016.
BLUES RADIO CHARTS:
The most recent Roots Music Report Top 50 Blues albums chart is Sept. 21st and shows Buddy Guy's brand new BORN TO PLAY GUITAR moving up to #1, Shemekia Copeland's latest OUTSKIRTS OF LOVE from Alligator in 2nd, Samantha Fish's WILD HEART moving to 3rd, John Ginty's NO FILTER at fourth and Sonny Landreth's BOUND BY THE BLUES moving into fifth.
Releases from John Mayall, Dave & Phil Alvin, Ronnie Earl & the Broadcasters, Eddie Cotton and David Michael Miller complete the most recent Roots Music Report Top Ten Album chart.
The Top Five songs per the Roots Music Report for the current week are Buddy Guy's "Born To Play Guitar", "Unknown" by Jon Cleary, "Wear You Out" (featuring Billy Gibbons) by Buddy Guy, "Outskirts Of Love" from Shemekia Copeland, and "You Must Be Crazy" from Andy Poxon.
The Wisconsin Roots Music chart of the same date has Westside Andy's BLUES JUST HAPPEN in the fifth spot and Tracy Nelson's I"M SO LONESOME I COULD CRY sixth. Nelson was raised in Madison, WI but I don't think she lives in Wisconsin these days. All other albums are non-Blues.
The Living Blues Magazine Radio chart is done once every month covering the PREVIOUS month and STILL the latest chart covers JULY plays compiled August 1st. Nothing has shown up for AUGUST plays compiled this month. Last month's chart had Ronnie Earl & the Broad-casters FATHER'S DAY #1, Henry Gray & Bob Corritore's SESSIONS VOL. 1: BLUES WON'T LET ME TAKE MY REST second, the Bey Paule Band's NOT GOIN' AWAY in third, the Kentucky Headhunters w/Johnny Johnson's MEET ME IN BLUSIANA at #4 and James Harman's BONETIME issued by Electro-Fi moving to 5th place.
The Remaining five albums in the top ten aired in July are from recordings from Omar Coleman, the Cash Box Kings, Charlie Musselwhite, Victor Wainwright & the Wildroots and Sonny Landreth.
FESTIVALS:
Things are winding down fest wise in the upper Midwest but there's still some GOOD ones coming up. Coming up in October the Silver Dome Ballroom West of Neills-ville is putting on their 2015 Blues Party Oct. 2 & 3 plus there's the Chain O'Lakes Blues Fest at the Indian Crossing Casino in Waupaca October 2 & 3rd as well. See in the attached for the bills and all the other details on the above.
WAUSAU AREA MUSIC:
Musical or Blues happenings coming up in the near future in or around Wausau or within a reasonable drive (about a 100 miles) include the Misha Siegfried Band Nov. 14 at Appleton's Deja Vu, the Bobby Evans Band Nov. 21 at Fond Du Lac's Backstage Bar, the Lizardz play the Intermission Sept. 25th in Wausau, Michael Murphy & the Mob 9/26 at Knuckleheads in Oshkosh, 20 Watt Tombstone with Killing Rapunzel Sept. 25 at the Jailhouse in Rhinelander, Big Mouth & the Power Tool Horns 9/26 at the Lorelei in Green Bay, Cadillac Pete & the Heat Sept. 26 at Woodruff's Shooterz Saloon, Hip Pocket at Minocqua's Beef-A-Rama 9/26, Mojo Dec. 26 at the Snout Saloon in Chippewa Falls, Mojo Radio Oct. 9th at Appleton's Mill Creek Blues Cafe, Donnie Pick & the Road Band 9/26 at the Cimarron in Menasha, the Dave Steffen Band Sept. 25 at Frenchies in Fond du Lac and the Alex Wilson Band September 27 at the Hill Tavern in Omro. See the attachment for even more!
EVENTS A BIT FURTHER AWAY:
Among BLUES or other special music further afield music lovers have a lot to choose from including TAB BENOIT Sept. 23 at Fitzgerald's in Berwyn, IL, an all female funk & R&B group KLYMAXX 9/24 at Milwaukee's Riverside Theater, SHEMEKIA COPELAND on the same date at the Dakota Jazz Club in Minneapolis, MN and on Sept. 25 at the High Noon Saloon in Madison, the 2015 BLUES BLAST AWARDS Sept. 25 at the Fluid Events Center in Champaign, IL with live performances by many of the nominees, the SENA EHRHARD BAND Sept. 26 at Famous Dave's in Minneapolis, MN, NICK MOSS & FRIENDS Sept. 29 at the Ital. Comm. Cent. in Milwaukee, MARK KNOPPLER at the Riverside Theater in Milwaukee 9/30, BLUES TRAVELER Oct. 2 at Turner Hall in Milwaukee and LIL' ED & THE BLUES IMPERIALS October 3rd at Shank Hall in Milwaukee! For MUCH, MUCH more see the attachment.
BLUES RADIO:
If you're looking for a Blues fix on the radio and are South of Wausau tune in every Saturday to "Blues Cafe" with Papa Joe starting at 3 until 7 PM on WWSP's 89.9 FM out of Stevens Point. Another choice over most of North and North Central Wisconsin is "Blues Friday" starting at 6 PM until 12 AM on Rhinelander's WXPR 91.7 FM and 91.8 in Wausau. You can get BOTH on the World wide web as well.
Yours in the music;
The Blues Doctor
Bobby Messano
LOVE & MONEY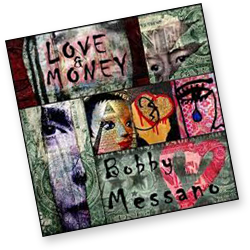 A couple of months ago I was sitting with Bobby in his van listening to a couple of advanced tracks from Love & Money. He played me something he called his Led Zeppelin song and another funky tune. These songs sounded great and I was looking forward to hearing the finished CD. I knew it would be a good one. Good one was a huge understatement, this CD is fantastic!
Bobby starts things off with "April Showers," and he laments (I just saw laments was used in the liner notes, too bad, I have used it for years!) on getting older. It's a song about losing the expectation that you have of family but it could also be about friends. It is the disappointment of snow in April. You thought things were OK and then they took a painful turn. Disappointment is heart crushing at times! Acoustic guitar and some slide with incredible lyrics kick off this CD in a brilliant way! "Love & Money" just rocks with a little of the same theme but this is what a life partner wants more than family. You get the feeling that Bobby was in love and all she wanted was the money. Pain is pain, luckily that's one I've never felt, maybe because I never had any money?
When I listen to "Seasons" I am reminded that this is the song that Bobby called the Zeppelin tune. Nice strings in the slow intro and then it just kicks you in the head like a Zeppelin song would. The vocals are poignant and it goes back to some acoustic guitar before it rocks out again. The strings stay throughout and it's an inspiring song. Not sure why it inspires me because I agree with the growing loneliness over the seasons. Here comes the funk with "What I Got" and it is a toe tapper! Bobby sings about all the things he doesn't have. He has love, a funky song and a scorching guitar solo. That is good enough for me and I am glad he doesn't have a cat or tats. Hey just my personal preference and yes Bobby, you do have fans! "Everything Is Gonna Be Alright" is what I tell myself every day and I'm not sure that I believe it! Bobby sings it in kind of a not convincing way and it reminds me of a country song that shows the downer side of things. We all need to stay positive but sometimes as we tell ourselves this, we still have doubts. I don't even know what to say about "Had To Cry Today," The cover of this Blind Faith song is just out of this world! In my opinion, Bobby makes it his own song. I know he played it when he was with Steve Windwood, but this version was so explosive that it made me love the song even more.
"Boddentown" is a light, bouncy, cheery little instrumental that is guaranteed to lighten your load. The blues rocker "Rollin' On" is up next and I refer to that song as Bobby's Deep Purple tune. Booby's vocals and Freddie Gasparini's organ playing is what bring that image to mind. "Welcome to My Failed Career" is another picture of a touring musician. Everybody thinks they are living the high life, but they struggle with lack of love and money just like the rest of us, and all while having to deal with outsiders looking to take advantage of them. Blues with a little funk is how I would describe this song.
"Hard Road" is some slide drenched ass kickin' blues! It is a great ending to a spectacular CD. It is on this song that you can really appreciate that Bobby recorded this with his touring band. The live feeling is really present here. Dave Hollingsworth: Drums and Percussion, Freddie Gasparini: Keyboards and Suavek Zaniesienko on Bass Guitar really lay an incredible back drop to Bobby's singing and guitar playing!
The bottom line is trust, hope, respect, love & money are all things we must have faith in. The anger, and the not understanding, is part of that - just don't let it consume you! Let it make some beautiful music. Thank you Bobby Messano!
Ron Hoerter
We want to thank everyone that attended this year's Blues Café on March 14, 2015. It was a definite success, and that would not happen without your support -- it is appreciated.
Also, a heartfelt thank you to almost 100 volunteers that help make the event so special. Without you, we'd be sunk.
We felt that all five bands were great, and if there are varying opinions out there we would sincerely appreciate any feedback that you want to offer. Favorite band? Any other acts that you'd like to see at future shows? Things that could be done better? We'd like to hear it all.
Keep in mind that we also count on society memberships. Every $10 goes toward the support of our society, and is vital in our continuing effort to spread the gospel of the blues!
Once again, thanks to all for attending!
Mike "Mr. T" Tatro
GNBS President
Great day at the Blues Cafe!! Really liked the variety of acts presented. All were outstanding in their own way. Had a very nice visit with Chris O'Leary and his band at the hotel were all staying in. Bobby Messano stopped in too. All were a great bunch to visit with. Going to be hard to top this show. You and the whole crew did a great job.
– Ken Pelo, Port Edwards, WI
What a Great Weekend it was to Kick off the Spring portion of Blues Festivals . . . Thank you to all the Artists . . . Samantha Fish, Bobby Messano, Left Wing Bourbon, Crankshaft, Chris O'Leary Band . . . and big thanks to the whole Great Northern Blues Society for always letting me help out"
– Spike Stephan, Rochester, MN
hey mike, great job this year, im listening to the chris o leary band cd rite now, wow now that was a great blues band, i purchaced all 3 of their cd s . i thk u 4 all of your efforts. is the member ship a 1 time or an annual renew,, thks again"
– Dean Willet
My Dad and I had a great time at the Blues Café. It was an awesome event with a great, diverse lineup. I think the mix of styles was a great idea. It kept it fresh. Really enjoyed Crankshaft and O'Leary.
– Rob Wyman - Rubber Soul Productions, Wausau, WI
I Had a great time and I highly recommend the event to any and everyone!
– Curtis Jacobsen, Clear Lake, MN
We had a great day. So much fun. You did a great job putting that together. We all had a blast. I am still tired. I enjoyed all the acts. My friends all really enjoyed Crankshaft & the GearGrinders. If you need any help with anything for the Café next year please keep me in the loop & Let me know.
– Paul DeTennis, Green Bay, WI
Awesome Awesome time!
– Randy LaFave, Wausau, WI
Thanks for everything My Friend! I think it came off wonderful. The sound guys were 'dead on' and everyone had a ball.
– John Hammer, Owatonna, MN
Excellent time. Already planning on returning next year. Met some new friends too! Thanks for all of your hard work. Believe me, I know what goes into show like that!
– Mark Stonerock, Marquette, MI
Good seeing you this weekend and great line-up! Had a blast. Many thanks.
– Todd Yeomans, Prairie Du Chein, WI
I had a great time. It was a very good lineup. I love Samantha, and I forget how good Bobby Messano is. He had the joint jumping as did the Chris O'Leary Band right after him. The location is great. Easy to get to from the highway, It is good sized to accommodate lots of people and the acoustic are good. All in all, it was a great day.
– Tom Blaskey, Middleton, WI
I thought this year's Blues Café was great. The faves of mine and the 3 folks with me were Crankshaft and O'Leary, and they seemed to be the crowd pleasers also, per the number of shakers out in front. Both were original and unique. I cannot imagine the time you and the people who help you put in to put this show on. I thought the sound was very good this year. Thank you, and your Society for all you do to give us this great event to attend. Big thanks for bringing in Crankshaft and O'Leary (esp right b/4 St. Paddies) for a special treat. You folks are incredible.
– Keary Bilka, Manitowoc, WI
Things DID warm up a bit in North Central Wisconsin! Especially Saturday March 14th at 2015's BLUES CAFE! If you didn't make it down to the Rothschild Pavilion you missed a great one! All the artists put on a fantastic show and the sound overall was spot on.
The Doc especially liked Crankshaft and the Gear Grinders as well as the Chris O'Leary Band. I Took in Crankshaft at the International Blues Challenge in Memphis a few years back and to be truthful didn't care for the group. Saturday's show converted me into a fan! He got the crowd off of their chairs and onto the dance floor and kept them there. Did one song that sounded to these old ears much like European Electronic Dance music! Somehow he made it work at a Blues event.
Had a great time and enjoyed all the other acts as well. Thanks from the Doc go out to all the artists and especially to the folks at the Great Northern Blues Soc. for putting together another fine show.
– Bob Decker, The Blues Doctor, Wausau, WI
I just wanted to send a quick note. Thank You for having the Blues Café. Carol and I really enjoyed the music all day, especially the Chris O'Leary Band.
– Dave and Caroline Graefe, Recordman Dave, Wausau, WI
It was a good show! A very nice variety of blues styles (I DID enjoy The Chris O'Leary Band the most) and the sound guy WAS much better (good job fixing that issue). It was one of the best Blues Cafes to date in my opinion and I was especially glad since I had invited a couple of my collectors (who are blues fans) to meet us there which they did. Thanks to you and everyone who organized the event. I can only imagine the work involved.
– Joan White, Nicolet Studio - Lakewood, WI