It's hard to believe that three years have gone by since I had Bake Sale on the brain. I have been drooling for months, so it's time to dig in and put some in the belly.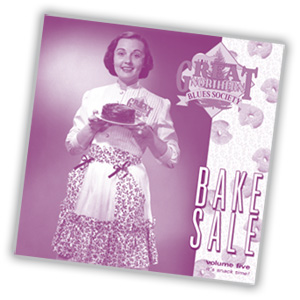 We start out with a smooth mellow dish in "Intro," but don't let it fool you, because you are about to have your palate assaulted by "Drive." BS4 alumni Meantooth Grin, bring you "Intro/Drive" and it's that combination of sweet and salty, that I know you'll like.
Next we continue the slide into "Turpentine/Wade in the Water." Clovis Mann returns with another combo taste as greasy breakfast slides into Sunday morning brunch.
Michael Murphy & the Mob bring some comfort food to the table with Why "Get a Chevrolet." Once you try it, you will be glad to have them back and realize that an oldie can be a goodie.
Next it is time to wash some of this down. Here to help us do just that is Bake Sale first - timer Aaron Williams And The Hoodoo with "Drinking Blues." 2:57 PM is close enough to Happy Hour…I need a drink.
You better put that drink down or you will end up like Cadillac Pete and The Heat. They bring us "Rolling Pin." That woman will hit you upside your chin.
New to the Bake Sale is The Charles Walker Band with a little something for later on, to help burn off some of these tasty treats. "Boogie Woogie" will do the trick.
The Nitecaps stop in to add a little dipping sauce to whatever you want to spice up. "King Swing" will definitely do that. Welcome to the dining room.
Returning from BS4 is Deep Water Reunion. They will get you past that, this is so good but I'm starting to get full point. Once you hear "I Came Here to Play," you know that you are in for the long haul and happy about it.
We are proud to have the talented pat mAcdonald make an appearance to serve us up some thump and stomp on "My Troubled Mind." It leaves us with more room in the stomach. Bring it on!
Another new dish, brought to us by Hounds Tooth, reminds us that whatever new thing we are eating, it is because of the dishes served before. "Blues is Truth" does just that.
Perry Weber & The Deville's have made an appearance and brought us a classic Midwest casserole. All the basics are there but nobody is talking about it because they are too busy eating up "Got My Room."
First timers, The Delta Jets dropped off a plate of greasy appetizers, with "My Baby Blues." I know you are supposed to eat them at the beginning but sometimes you go back to them during the middle of dinner, because they are so good.
The fresh dishes keep coming with The Playground of Sound's "Leavin' Suzanna." You may be thinking about having that second drink about now, because you have just been inspired to keep moving on with your journey.
That inspiration led you to fall in love with what you are now sampling. South End Blues Band brings us yet another new dish with "Love Tsunami."
Sometimes when you try something we haven't had before, you can't help but laugh when you taste it. "Crossdresser's Blues" by Queenie & the Blue Cats makes that happen.
Making his first appearance serving us since BS2 in 2001 is Jimmy Vogeli, with "I Know What I Like." Your foot starts to tap and you're thinking it's almost time for desert because you really don't deserve this much good stuff.
BS4 veterans the Jerry Henry Band return with "Sugar Momma." They will inspire you to clean off your plate, because desert is about to be served.
Desert is a three-piece course with classics on the menu. These deserts differ a little from the rest of the meal but they are familiar.
This newcomer inspires us to burn off some classic calories with "Walkin Shoes." Welcome Doug Kroening to the Bake Sale.
"Crucify" by Sue Dabaco and Wise Fools reminds me of mixing the cake with frosting, ice cream, chocolate syrup and your favorite candy all together in a bowl. It's all familiar and tastes good.
Aaron Williams And The Hoodoo will "Hypnotize" you, with their song of the same name. That is what you are going to need after taking this all in. Hey maybe that type of diet will work for me? Loosen your belt and hit play again. I dare you!